The Layperson's Email Marketing Guide to Creating a Successful Campaign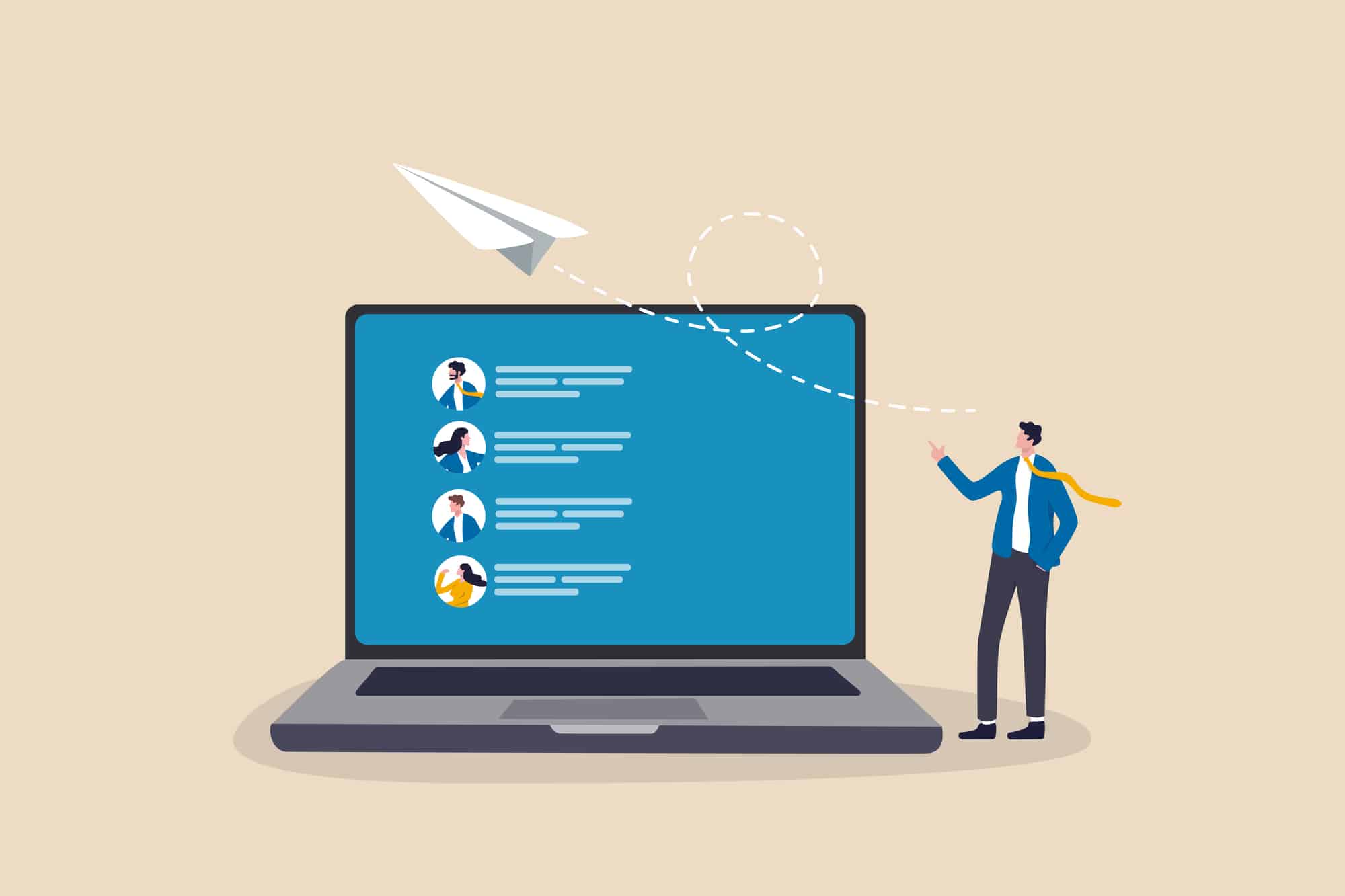 According to MarketingPlatform, email marketing has never been more relevant than in 2022 and reigns as one of the best channels to reach current and potential customers for your business. While email marketing may seem simple, there's actually a lot more to it than just sending out an email blast to your entire subscriber list and crossing your fingers that people will open it. In order to create successful campaigns that help grow your business, you need to pay close attention to factors like timing, content, and the other aspects of the delivery itself, not just the design or text of the email – although that is important too!
If you're interested in learning how to create a successful email campaign that generates results and builds up brand awareness, you're in the right place so keep on reading!
Know Your Audience & Use Segmentation
When it comes to email, it's important to really know your audience and segment well. For email marketers, that means creating different emails for different segments of people. Segmentation is often misunderstood as just being used for targeting where you want—having two or three lists with segments based on job title or location, say—but there are other ways segmentation can help an email marketer create better content and deliver higher conversion rates. An example would be if someone has unsubscribed from your emails before; instead of sending them more of what they don't want, why not send them something new? Understanding those who have left helps give insight into what may make them come back—and get results.
Segment with Tagged Forms & Lead Magnets
Segmenting your email lists can yield some amazing results, and most email marketing software will let you do it with tags and forms. However, lead magnets can also be used to segment lists. A lead magnet is a piece of content that attracts subscribers based on its value to them (not all content has value to everyone!). For example, offering a free cheat sheet with tips for job seekers or small business owners would attract different lists than an ebook about marketing for large brands. In addition to driving more traffic and improving conversion rates, segmenting your list with lead magnets provides better audience insight so you can send targeted emails in future campaigns.
You can also tag based on the information that you collect. This is an often overlooked aspect of lead capture. We talk to a number of clients who only have a Master List of contacts and no tagging, no segmentation whatsoever! It makes everyone's job easier once you start collecting this info.
Examples of information to tag/segment by:
Product Purchased
Action Taken (download, purchase, inquiry, etc.)
What someone downloaded/purchased, inquired about
Age
Location
Interests
Last time on website
When you start collecting info like this, it makes it easier for you to begin crafting messages specific to your audience based on what they want to know.
AB Test, Test, Test!
A/B testing is essential for email marketing. You're probably familiar with A/B testing from SEO or marketing campaigns. Well, in email marketing it's also important to A/B test your subject lines, calls-to-action (CTAs), and different images and content. And it's easy! Most email software programs give you the ability to create two versions of the same email. Choose a different thing to test each time and then study the results to see what produces better open and click-through rates. Keep in mind that you will want to test each item multiple times before considering something a best practice. Continual testing is one of the keys to successful email marketing!
Write a Compelling Subject Line & Preview Text
Most marketers aren't experts at writing marketing copy, but subject lines and preview text are an important part of every email campaign. They make a huge difference in your open rates and click-throughs, so it's important to write compelling subject lines and preview text that makes your subscribers want to read more. The exact formula for creating a good subject line or preview text varies depending on who you're sending your emails to. For example, if you're sending an email to your customers, there's a chance they already know what you want them to do when they see your name in their inbox so give them other reasons to open, like added value, new information, or special offers. If you need inspiration, subscribe to emails from your favorite brands and take note of which subject lines catch your eye.
Email Subject Line & Preview Text Best Practices
A few subject line examples
We released a feature that will blow your mind
Today Only: X Product is On Sale
[FirstName], You've Been Waiting for This
For email subjects, keep them short and to the point and less than 50 or 60 characters or less.
Play with urgency and timeliness. Avoid exclamation points and uppercase letters. Research suggests these contribute to lower open rates. Also including 'Update' can also contribute to lower open rates. I just saw this in a recent campaign I sent out for our Crowdfunding product. But a lesson learned is a good lesson to learn.
Preview Text or Pre-header Text
Preview text and pre-header text are the same thing aka soda vs pop, fyi.
It's not the subject line, it's text that appears right below the subject line in an email. It's an opportunity to generate interest and gain attention.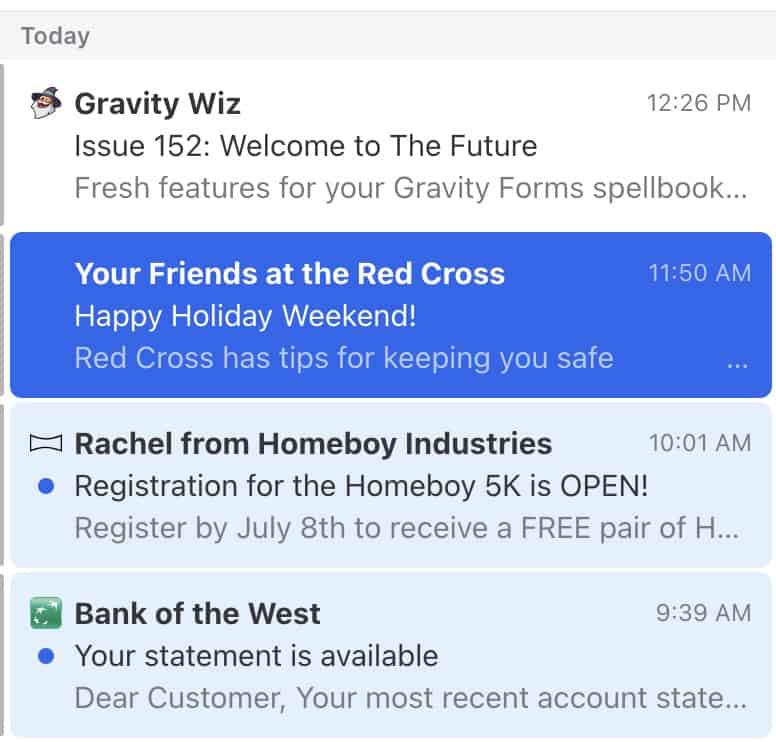 In the example above, only one of those emails (the blue highlighted one) have preview text. The blue highlighted email's preview text was manually set, it's not truncated as the other emails are, meaning there's some email marketers asleep at the wheel!
Preview Text gives you one more opportunity to grab a reader's attention. USE IT! Email Marketing Platforms provide the ability to create a preview text copy for your emails—doing so can help your open rates.
My advice is to add specific details or create urgency to generate more interest.
Examples of Preview Text
Today Only Sale!
Our Sale Ends at Midnight!
Meet Our Team at Event X
Customize Your Content for Your Audience
When you're first getting started with email marketing, it's tempting to create templates and send out mass emails to all your subscribers. While an email campaign like that might do well in terms of open and click-through rates, that doesn't mean you should continue doing it. Sending content to your audience that they don't want makes them unsubscribe more quickly, and if your goal is to build relationships, an unsubscribe list isn't a great way to make friends. When you customize your content for your audience and send them the information they find relevant or helpful, on the other hand, they'll be much more likely to stay engaged with your brand.
Keep it Visually Appealing
When you create an email campaign, it's your job to make sure it gets read. Studies show that not only do emails with images get opened more often, but they also get clicked through more than emails without images. It's been proven again and again that adding attractive graphics makes you look like a professional who takes care of their clients and as a result, people trust you.
Additionally, an attractive campaign will be shared more often than one that is poorly designed or visually unappealing; think about how many times you click on an email because it has an image and then re-share it because of its interesting subject line! To add flair to your campaigns, make them visually appealing with fun graphics, gifs, and on-brand typography and colors. Simple and streamlined visuals are appealing too – tasteful doesn't have to mean flashy.
An example from the Morning Brew Newsletter
Optimize Your Launch Day & Time
When to send your email campaign is just as important as the content itself! Do some research related to your specific industry and when your audience is most likely to engage with your email. For example, if you're sending tips for excelling in the workplace, launching an email campaign at 10:00 am on Monday might be ideal. If you're sending out a promo code for a free pizza, Fridays at 6:00 pm might work better. You will also want to A/B test your send days and times to find what works best for your audience, as it will vary from list to list and email to email.
Most email service providers, like Mailchimp or ActiveCampaign have features that allow you to let artificial intelligence/machine learning determine your best send time and will schedule your emails to send at the appropriate time for a given subscribers timezone and email opening habits. USE IT and then measure it by looking at your reports.
Also, try sending emails on different days and times.
Use Thoughtful Calls-to-Action & Strategic Linking
Call-to-action buttons are an easy way to tell readers what you want them to do next. You can use action words or phrases that spell out exactly what you want people to do—like buy, sign up, or vote—or use more general calls to action. Or get creative and punny, depending on your audience. Either way, be sure your calls to action are visible and prominent in your email marketing campaigns.
Linking is also crucial because it draws attention to specific parts of your emails, and when done strategically, it helps get people where they need to go, which should be to your website or blog.
Done right, email can be one of the largest channels driving traffic to your site.
Ask Your Audience for Feedback
Too often, we get into a rut with our marketing and send out email campaigns without hearing back from our customers. It's easy to become disconnected from your audience, but there are ways to avoid that: send out surveys to ask for feedback on your current emails and let them know you're open to hearing what they think is valuable. They'll be more willing to give you honest feedback because they know their thoughts will matter. From there, you can implement their suggestions in your next campaign—and come closer to knowing exactly what your audience wants. You can also tag subscribers based on their answers and segment-specific emails to them.
Study Reports & Stay Consistent
An email marketing campaign is really only as good as its performance, and staying consistent over time can be challenging—but it's also crucial. A lot of email campaigns have strong starts and then fail because marketers don't continue testing and tweaking their messages over time. This is why you should study reports from your campaigns after they launch and continually re-evaluate what kind of content works best for your customers. When you test, study reports and stay consistent, you'll reap the rewards of email marketing!
Make the most of your newsletter and contact database with the power of email marketing. Learn from email marketing specialists, we show you how to close more sales and get more meetings booked with email marketing and automation best practices. Download our free email marketing and automation workshop here!
Get Notified When We Publish New Content!
Join more than 2,500 people who get our marketing automation, business marketing, and WordPress news!