Marketing Your Website- Website Development Cheat Sheet Pt. 2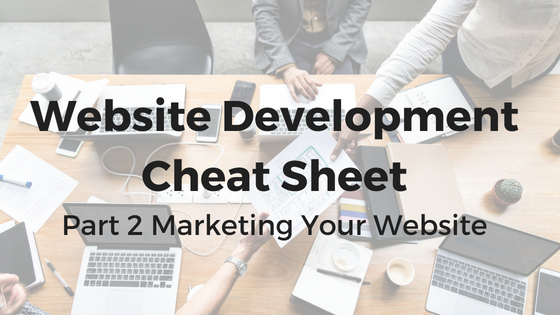 Step two of our Website Development Cheat Sheet is how to market your website.
A lot of business owners think that after they create a website they don't have to update it or add anything new and forget that websites need to be marketed online with keyword strategies, SEO practices, social media platforms, content creation plans, and email newsletters.  These steps keep your website relevant and put you out there for the public to find your business. We'll be going into each of these points and how they will help market your business to be one of the best online.
Keyword Strategy
What is a keyword strategy? A keyword strategy for a website is choosing the closest words to describe your business and the services it offers. You should add very industry specific words that an expert should know (someone like you) would search to find your business, then add content searching words that are less specific but still involve your business, and lastly add words that are very broad. An example of this is how people would search for cameras; Specific would be "Canon EOS Mark 3", less specific "orange affordable digital camera", and broad is "camera" "digital camera" "orange camera".  Having this arrangement of words helps draw traffic from all searches so that online users find your site.
SEO Practices
SEO stands for search engine optimization and it is crucial for the success of your business. You need to have SEO for your website to compete with the other businesses similar to yours online.  DigiSavvy Principal, Alex, goes into detail about how to be competitive online in his past article- SEO for Beginners.  He touches on why it matters, how search engines work, what you should do to increase the search engine results, how to use keywords and more. It's a lot to take in for a cheat sheet and can seem like a lot at first, but if you carefully digest this information, like the tortoise in a race you will find success amongst your competitors.
Social Media Platforms
What social media platforms do you use?  Before you create your social media accounts you have to see what social media platforms are better for your business and worth the time to update. For example, an interior designer should be on Instagram, Facebook, and Pinterest because of the visuals that the platforms provide for users to see their work and get ideas of what they would want if they were to hire them.  Evaluate what platforms work for you and see if your audience is using those outlets.
Also, invest in Ads.  It might feel like a waste of money, but it's an investment to get more viewers to see your posts, which can translate into future sales.  You are able to target your ads for a specific audience on social media, check out point #3 in our article on how to engage your audience online.
Content Creation Plan
When putting out content for your social media and website's blog, a content creation plan is helpful to stay on track with goals and themes that you want to have for the year.  Our small business client, Urban Southern, talks about some of their experiences when creating content and how they plan it out for the year. In their interview, they gave tips and recommendations for other businesses that are online.  One thing that they say is that they try to have content for social media every day and at least two blogs a month because it's helpful to increase your SEO and stay relevant with trends that customers are looking for.
Email Newsletter
You know all those email addresses that you've gathered but never emailed?  Well, this is the time to set them up into an email list where you can update them on how your business is doing. ActiveCampaign is a great tool to help with email newsletters and creating a personal connection to your email list that is also fast and easy to use.
After marketing your website, you'll need to check on your website's performance which will be the final step of the Website Development Cheatsheet.
Get Notified When We Publish New Content!
Join more than 2,500 people who get our marketing automation, business marketing, and WordPress news!