What Do I Write in My Monthly Newsletter?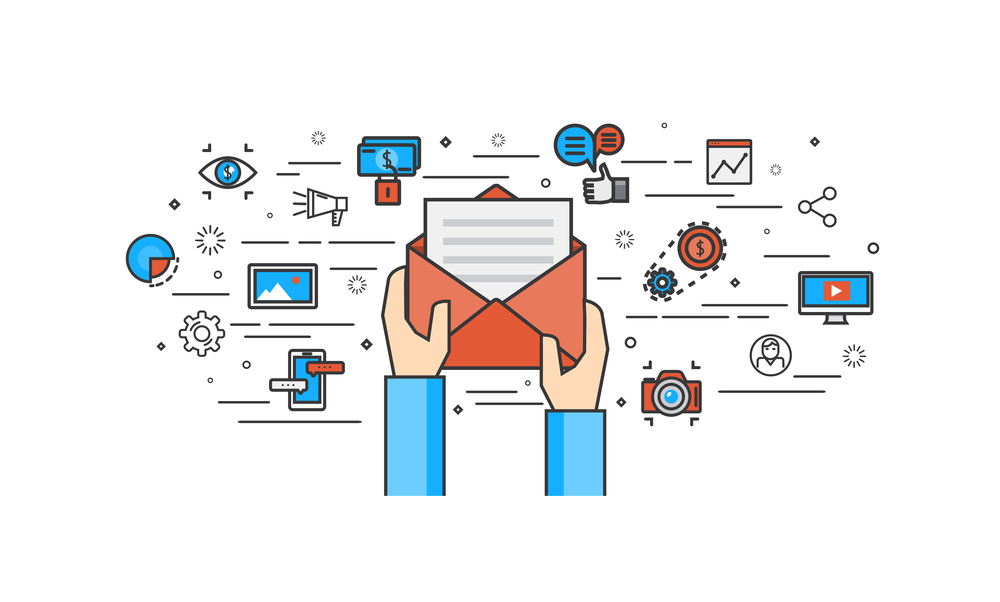 As a business owner, one of the most effective forms of marketing you can use to reach your target customer is email marketing, in which you send out regular newsletters to a mailing list of potential leads in the hope of moving them further through the sales pipeline. When done correctly, email marketing can be incredibly effective, with a return on investment of 4200%. That's why 40% of B2B marketers claim that email newsletters are the most important tactic in their content marketing strategy.
But seeing the value of and deciding to implement email marketing is the easy part. The more challenging part is coming up with ideas for monthly newsletters that are interesting enough that they will retain – or even grow – your newsletter subscriber base and, ideally, help you make sales. If you want to write a monthly email newsletter that people will actually open, read, enjoy, and potentially take the action you want them to take, keep reading.
Updates on Your Company
One thing that makes perfect sense to write about in your monthly newsletter is what's new at your company. What has been going on? Do you have any new products or services? Have you hired any new interesting employees? Did you get an office dog? Think about what your audience might find interesting and important to know about what's been going on in your organization and keep them in the loop about it.
Industry News
Additionally, you might offer your subscriber base news and updates about developments in your industry that could be relevant or interesting to them. What are the latest trends in your field? And, more importantly, how do they impact your customer? Remember to always bring it back to the reader and their needs. To that end, do your best to avoid any technical jargon so that things remain easy to read and understand.
As you can see below, Medium's Daily Digest makes this the focus of their newsletter, bringing their readers industry updates catered to their interests, from tech to TV.
A Word From Above
Another type of company content that you can include in your newsletters is a message from somebody high up in your company like an executive or your CEO. This is a great way to build personal connections. People feel much more emotionally involved in a company when they can see the faces and hear the stories of the people behind it, so if you want to bring a personal touch to your email, this can be a great idea.
Individual Spotlights
A great way to dive a bit deeper into a specific person's story and create a sense of real human connection is to include an individual spotlight in your monthly newsletter. It can be somebody who works at your company who you want your audience to get to know or even a customer that you want to feature. This is also a good opportunity to send out a testimonial, showing your newsletter subscribers how your product has helped others and, consequently, might be able to help them.
If you do a customer spotlight, be sure to include a call for customers to submit their stories for the next customer spotlight feature. It's a great way to source information about your user base and even testimonials.
Special Offers
Chances are, the thing that your readers will be most excited to see in your newsletter is a special offer or discount that they can feel justifies their decision to subscribe to your emails in the first place. Not only are these types of promotions a customer favorite; they're also a great tool to convert your newsletter readers into real sales. This will also provide a great incentive for your customers to stay subscribed to your newsletter, recommend your newsletter to their friends and family, and open your emails when they receive them.
Interactive Content
If your goal with your newsletter is to engage your subscriber base, it can be a great idea to include content in your emails that they can interact with, giving them a sense that they have a relationship with you and that you are interested in hearing their voice. This can be a survey, a poll, a call for feedback – you get the idea. And not only will it strengthen your relationship with your customers, but it will also help you gain valuable insight as to what they are looking for from you.
User-Generated Content
Another type of interactive content that you can publish in your newsletter that helps build relationships with your customer is user-generated content. The idea here is that you crowdsource content to post from your email readers themselves. This will involve sending out a call for entries, such as stories, images, and videos, and then following up in a future month by choosing one or a number of entries you receive to include in your newsletter. Because people love to feel seen and recognized, this can greatly improve your engagement.
Holidays and Observances
A final approach is to include content in your newsletters that you know your users will be interested in because it is in some way relevant to their lives. But because you – generally speaking – won't know too many details about your readers, the easiest way to do this is to go for the wide, universally relatable content by mentioning things like holidays, current events, and observances. These are truly eternal springs for content ideas and offer a fantastic opportunity for entertaining and even inspiring content. If you want help knowing what holidays are coming up – including the niche ones like National Macaroon Day that can also be fun to mention (especially if you're a macaroon company) – you can use a resource like National Today.
As you can see, there are actually many more options for things to include in your monthly newsletter that may be immediately obvious. All it takes is some creativity and you can put out newsletter after newsletter that is always engaging, educational, and worth reading, maintaining your subscriber list and growing as you do so.
Get Notified When We Publish New Content!
Join more than 2,500 people who get our marketing automation, business marketing, and WordPress news!