E-Commerce Options: Hosted vs. Self-Hosted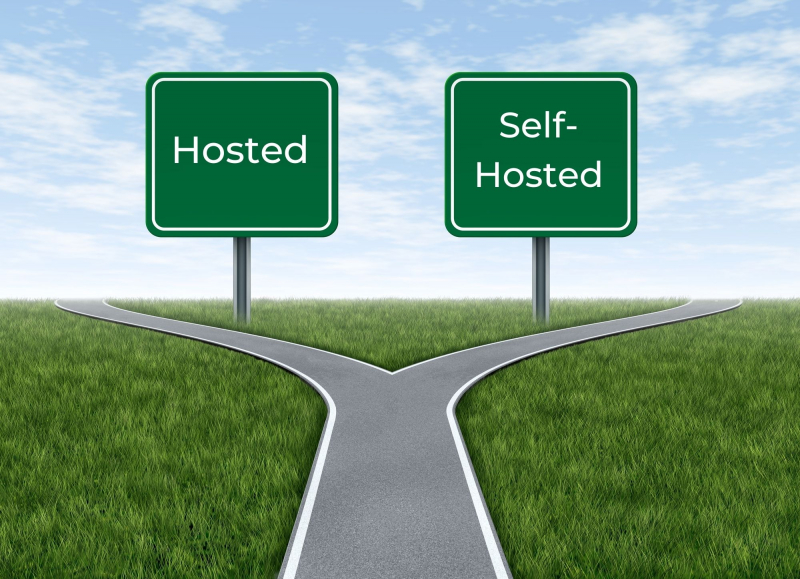 To host or to self-host, that is the most important question asked by entrepreneurs that plan to open an online store.
There is a lot riding on the decision, as it takes different skills and strategies to operate an E-commerce site on your own, or with the help of a platform that offers several convenient built-in website development tools.
Examples of hosted E-commerce platforms include the following providers:
Shopify
Volusion
PrestaShop
BigCommerce
ekmPowershop
Here are a few of the popular options for self-hosted E-commerce websites:
WooCommerce
Magneto
osCommerce
Solidus
Spree Commerce
Some E-commerce experts compare choosing between a hosted or a self-hosted platform like choosing between riding in a bus or driving a car. When riding a bus, most of the operating decisions are out of your control. Driving a car puts you in control, but it also comes with more responsibilities.
Advantages of Hosted Platforms
Hosted platforms take care of all the technical issues that involve uploading and managing an E-commerce website. There are several advantages to riding on the E-commerce "bus."
No Server or Hosting Issues
Simply select a plan that matches the size and overall scope of your online store. Server and hosting issues are the worries of the company hosting your E-commerce website.
Minimal Security Concerns
Although it is important to know the meaning of security terms such as virus and firewall, the host of your E-commerce store is responsible for handling all security issues. This includes automatic security updates and preventing spyware from costing you thousands of dollars in sales.
The hosted platform makes all the technical changes required to handle an uptick in website visitors. The platform also fine-tunes features that include payment processing and the display of product images. For example, a hosted platform adds the servers required to handle Black Friday website traffic.
Hosted platforms typically offer more features than the number of features offered by self-hosted platforms. These features are already available to you instead of waiting (maybe months) for a developer to customize them for you. Take a look at the features included in Shopify's plan.
Disadvantages of Hosted Platforms
If you prefer riding in a bus, then a hosted platform is for you. However, if you want full control of your E-commerce site, then a hosted platform does not meet your criteria. Let's review a few other reasons why a hosted platform might not meet your online store needs.
From hidden add-on costs to the high expense of developing an E-commerce store, going with a hosted platform might cost you more money than your operating budget allocates. This is especially true for small businesses that want to open online stores to complement the sales generated by brick and mortar locations.
Inability to Customize Features
Although a hosted platform usually offers more features, the features are 100 percent under the control of the hosting company. You cannot customize features to match the vision for your online store. All E-commerce stores add features to accommodate changing business models, but with a hosted platform, the types of features you add are out of your control.
Finally, you can expect to rely heavily on the customer support team provided by a hosting platform. Make sure to understand how the hosted platform handles customer service questions, as well as how long it takes to respond to technical problems.
Advantages of Self-Hosted Platforms
Driving a car has many advantages that you do not get by taking a bus. One advantage is you usually get where you want to go faster. What are the other advantages of driving your E-commerce website?
Customize Whatever You Want
With the ultimate customization flexibility, working on a self-hosted platform allows you to take full control of your E-commerce website. With a self-hosted platform, you can change anything you want, at any time, to make changes that help your business attract more online customers. Even if you do not have the technical skills to customize features, you can hire a developer to make changes when you need to make the changes.
You are Responsible for Everything
It sounds daunting, but having full responsibility for your online store ensures you never have to gain consent before making a design change or switching out the payment processing system. You own everything, including the code and content that drives your E-commerce website.
Disadvantages of Self-Hosted Platforms
The cost of maintenance is typically higher on self-hosted E-commerce platforms. You also have to pay for software licenses, which can add up over a short period. Here are a few other factors to consider before going with a self-hosted platform.
Driving the E-commerce car can come at a steep price, both in terms of stress and money. Technical mistakes can lead to you forking over hundreds of dollars to fix the mistakes. E-commerce operators can confirm that running an online store on a self-hosted platform requires a hands-on commitment. If the operation of your brick and mortar store takes too much of your time, then a hosted platform makes more sense for your E-commerce website.
Developing an E-commerce website on a self-hosted platform takes more money, but another issue with development is you have to make all the decisions concerning each phase of the development process. If you are not skilled at E-commerce store development, then leaving development in the hands of an experienced professional is the way to go.
Yes, it takes a considerable amount of time to develop an online store. Yet, your work has just started, as managing an E-commerce website also requires a significant time commitment. You are responsible for all security features, as well as optimizing the website for SEO purposes. Hiring a consultant to manage your E-commerce website might make logistical sense, but that can be a cost-prohibitive move.
Deciding whether to open an online store is no longer an optional decision to make. You have to have an online presence for your brick and mortar store by developing an E-commerce website. The question is should you choose to go with a hosted or a self-hosted platform? The answer often hinges on your technical expertise, the time you can spend managing the online store, and how much money you can afford to spend on the E-commerce website.
Get Notified When We Publish New Content!
Join more than 2,500 people who get our marketing automation, business marketing, and WordPress news!