Urban Southern, DigiSavvy Small Business Client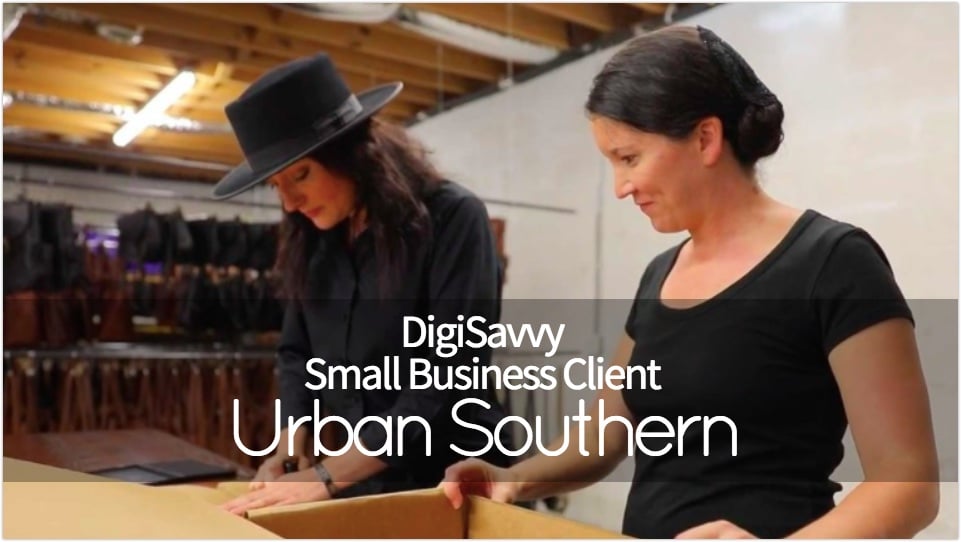 Happy National Small Business Week Everyone!!
This week is important for the team at DigiSavvy because we understand what it's like being a small business. We know how much time it takes, we know how overwhelming it can be, we know it can be lonely, but we also know how rewarding it is, we know how great it is to follow your passion, and we know that building something that's yours is rewarding. We want you to know, we get it.
The beauty of having a company that works with many small and medium-sized businesses is that we get to hear your stories, your struggles, and your successes. We have the opportunity to work with you one on one and see how we can help you get where you want to go.
One small business we have had the great pleasure to work with is Urban Southern.  Urban Southern is a business located in Tennessee that focuses on creating timeless leather bags that fit the lifestyles of all different types of women.  The business began in 2014 when the founder, Regina came up with this great vision and was encouraged to pursue it by her husband who is a leather craftsman.  In 2016 Regina's cousin, Meg took on the marketing and branding for Urban Southern. Family power!  Together, with the help of their team, they have been able to build their business and was interviewed and featured by Fox Business in 2017. This was awesome for Urban Southern to grow awareness in their community and online.
Earlier in April, I interviewed the dynamic duo, Regina, and Meg, and had a great conversation about their business and some of the things they've learned while being in business.
What are their routines to post content?
Starting off, Regina and Meg said that there's a big misconception for small businesses to be perfect in their content creation. They've noticed that if small businesses aren't as perfect as they've hoped for, they begin to get discouraged from other businesses who post more often, have more followers, etc.
After talking to Regina and Meg they said that they both help with the content of pictures, blog posts, and videos and admit that they are far from perfect. They're in the same boat as everyone else when trying to figure out all this social media stuff.
What they have found useful is planning out monthly themes months in advance on topics that they want to focus on. They typically like having at least one post on social media a day and two blog posts a month. What they're currently experimenting with is doing weekly live videos on Facebook and connecting with their audience on topics that can possibly turn into a blog post.
One tip that Meg emphasizes is the importance of evergreen topics that can be updated and posted again later as a follow up on the topic.  This helps build on previous conversations and the relationship with the customers. It also saves you some thinking time of what they post, and you can use that time for something else.
What do they wish they knew back when they were barely starting up?
One challenge that they had when they were starting up was connecting with an audience and getting more traction.  They were trying to be what a lot of other businesses want to be, a company where "the product sells itself".  Isn't that the dream?  Is that what really happens? Heck no! What they saw was that they were creating something that was supposed to be for everyone, but what they realized was that they will never be able to create something that everyone wants to buy.  That's just business.
They started to change in a direction that they knew was THEM!  Going back to their roots, they found that they needed to change their brand and website to tell their story.  Things like them being cousins and friends, Amish and Southern, helped them focus on telling their story and cutting products that didn't fit that niche.
The business wasn't what they expected it would be at first, but with time they grew, found their market, and stayed true to themselves.
What would they recommend other businesses that are trying to get online?
Regina  and  Meg  broke  it  down  into  three  main  points
Look at your strengths
Be patient
Don't give up!
Have you looked at your strengths, weaknesses, opportunities, and threats (SWOT)?  Regina stressed to take a look at what your strengths and talents are as an individual, as a team, and then build the business around them.  As a small business owner, you're expected to be a Jack of all traits, but you don't want to end up a master of none.  She recommends recognizing your weaknesses, and see if you can strengthen them.  If you can't, hire them out!  Not one person can have all the talent necessary to run a business. She also recommends looking at people who connect with the product and why they like it so much so you can then build on what's working for you.
Meg continues in saying that as a small business owner, you have to be patient and willing to adapt.  She says that a lot of small businesses that she's met have unrealistic expectations and are unhappy when something doesn't work. For example, when posting a blog post and thinking after the first one it'll go viral…. Humm. Well for most people (99.99999%) it takes time and years to find out what content will stick and connect with your audience.
Lastly, they said don't give up even when it gets hard!  An example that they told me was when they started blogging they thought that it wouldn't work because blogging was, "out of style," but they knew if they kept putting out content that they thought would be more valuable and eventually get traction. Guess what?! It did *Yay!* but only because they didn't give up.
How did DigiSavvy help their business?
After having a bad hiring experiencing for their custom website, Regina was challenged with many struggles that made running a small business online more difficult than it should be.
That's when Meg recommended doing some more research for website developers and found Alex.  They contacted him to learn more about how he could help them get the functionality that they need for their business. He helped with building a new website around their needs, as well as maintaining it, and finding plugins that fit their specific needs.
They continue to say that Alex was their biggest cheerleader in encouraging them to blog and create email newsletters because he knew it would make that difference.  This was validated when Fox Business was looking for a local small business to feature on their show and chose Urban Southern.  When they were at the filming, Regina and Meg were curious and asked them what made them stand out from the rest of businesses, and in response, Fox said that they were different than most small businesses because of their very professional website.  Being featured in Fox Business the producers knew Urban Southern could handle the increase of orders and PR with a reputable website.
In conclusion, they said Alex was flexible with their budget and timeline and really listened to their needs and solutions, keeping their needs always in mind. Regina and Meg never felt that they were being pushed to do things that they didn't want to do like they had felt in the past with their previous website developer. Instead, Alex would make suggestions knowing that small business owners need all the facts before making a decision.
In conclusion….
Here at DigiSavvy, we wanted to give a big thank you to the Urban Southern team, Regina, and Meg, for taking time out of their busy schedule to do the interview. I personally was moved to hear their background story, the struggles they have experienced as business owners, and the successes they have had in being true to their story.  Thank you both!
If you have a business or thinking about starting one, you aren't alone in this crazy process! This week is yours! Try out some of the things Regina and Meg did to get their business going in the direction they wanted to go. If it works out, great! If not, everything is a learning experience and you'll come out better because of it. And if you need some support or have any question, please leave comments below (:
Get Notified When We Publish New Content!
Join more than 2,500 people who get our marketing automation, business marketing, and WordPress news!