Have You Setup Messages in Google My Business for Your Business Profile?

I was home visiting family a few weeks ago. I was looking for a co-working space to work out of for a couple of days just to get out of the house. While searching for a space in my small hometown I found one in Google Maps. What I saw next was surprising…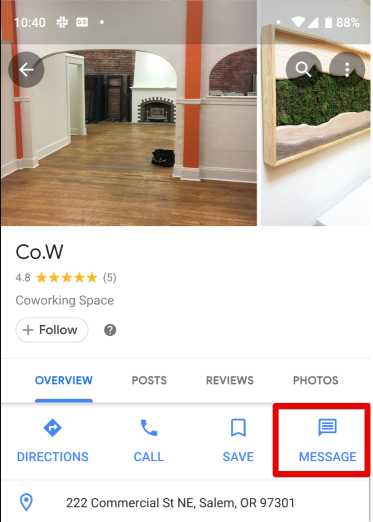 Once I located the coworking space—it was the only one in town—I saw a new icon in their Google My Business Profile.
Now, I know this feature isn't brand new but it sure was helpful. The owner of the space was quick to reply and we handled our communication directly through the messaging app, which showed up as maps notifications for me. It was convenient and I was able to get into the space just fine.
If you have a brick and mortar business or you have a presence on Google Maps I think it's a good idea to open that line of communication with your potential customers.
How to Setup Google My Business Messaging on Google Maps
It should also go without saying, that you need to claim your business profile on Google Maps.
First of all, you're going to need to download the Android or iOS app to your phone. It's required.
To turn on messaging:
Open your Google Maps.
Choose your location (if applicable).
Tap Customers.
Tap Messages.
Tap Turn on.
When you've turned on messages, you can return to Customers > Messages to see all messages chronologically.
To turn off messaging:
Open your Google My Business app.
Again, choose your location.
Tap More, then tap Settings.
Tap Messages.
Next to "Turn on Messages," turn off the switch.
You can turn on messaging again at any time.
There are a few more things you can do so be sure to read Google's help article on the topic.
Is it worth it?
I'm of the mind that it's important to keep the human-ness of a business, so providing those in-person touch points is critical to building not only trust but also rapport.
I've now used this feature a few times when looking at other businesses. I recently reached out to a barbershop using this feature to see if they were accepting appointments and they had a cancellation so I was able to get in. In this day and age, people tend to prefer messaging over phone calls, that's how it is for me at least.
Get Notified When We Publish New Content!
Join more than 2,500 people who get our marketing automation, business marketing, and WordPress news!