Make 2017 the Year You Start Doing Business Smarter

The email came back, and it read "Hey Alex, thanks for getting back to me. I wish you had written back sooner, but we've selected another agency to work on our project." I remember being bummed out, it was from a prospective client with an intriguing project that I wanted to work on really bad. But it didn't work out. I dropped the ball like I had done so many times before.
Perhaps I rely on too many tools, the fact remains that I forget things. A lot. Only in the last couple of years have I gotten cozy with using that thing that holds dates and reminders for you. That's right, a calendar! Who knew such a thing would be auseful? I no longer take meetings or calls that aren't scheduled. My time is valuable.
Working smarter. Step 1: Stop shooting yourself in the foot!
Losing out on potential projects because you "forget" to reply to an email is pretty lame. I feel like a jackass. The one thing I can control is my follow up with the client. If I don't do that, then there is only one person to blame.
Before 2016, that's how my business life was. A graveyard of lost opportunities because I failed to follow up. In professional services, it takes, often, many conversations before someone is "ready to buy." It's the nature of the business, and I'm okay with that.
I knew that something needed to change with my process. I didn't know how, though. I reached out to Wes Chyrchel to help me out on the coaching side of things. He had some good insights into my process—rather, my lack thereof—and he set me on a path of things to start thinking about.
Specifically, Wes asked me:
How do you handle with new potential business prospects? How do they contact you and how do you handle follow up?
How do you vet people who need your help? How are you qualifying your leads?
How do you onboard new clients who agree to work with you?
All good questions, they were focused on creating a process that I could commit to.
Creating a solid process, that you commit to, for yourself and how you operate your business makes it easier for your clients to interact with you. They know what to expect and they know how to get what they need from you.
I put that on my list of things I should read some day book.
My takeaways from my sessions with Wes were that I needed to create a process for myself that was easy to follow, something I would commit to. Most importantly, I needed to assign more value to my time, by doing so I assigned more value to my clients' time as well. Being more available and present helps me focus my energy better
Step 2: Commit to doing things in a smarter way
It didn't happen overnight; I spent lots of time researching ways of being more efficient with my day. I have friends who suggested that I only take calls and meetings that are scheduled. That suggestion seemed like such a no-brainer, but it has been a wonderful thing. I'm inclined to be helpful, but it's at the cost of my efficiency and effectiveness. What to do? I use Calendly to help me with scheduling. You Can Book Me and Schedule Once are also excellent services to use.
In addition to Calendly, I ensure the following: I take one day a week where I have no calls or meetings, and that's a Monday (hat tip: Jason Resnick).  I have an assistant who works with me, and on her first day, she noticed that my calendar had SIX meetings. She Slacked me and said "Dude, no more of this bullshit. Three meetings tops." Calendly can limit the number of meetings that can be booked on any given day, which has also been huge.
Creating a process to manage sales
I was a part of a "mastermind" group, and this was a topic that came up often. Heather, of Blue Steele Solutions, and Ben Fox of Flowpress were singing the praises of using a CRM. I'm a small shop, I thought, I didn't need a CRM.
But I was wrong. I may be a small shop, but I get a decent number of referrals from contacts I have, from channel partners, and plugin developers who recommend us. I am one person after all. I put my assistant on it and saw those interactions. Most of them were follow-ups to previous emails.
I knew that was something that could be automated. I recall Heather telling me how she used automation in her business to nurture her sales funnel. And that's when it clicked. With automation, I knew I could make repetitive tasks a thing of the past. I began scribbling out the whole sales process from form signup to finalized deal.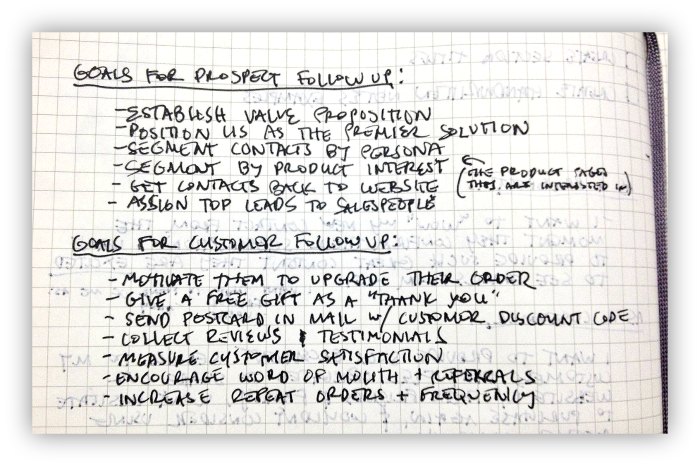 Commit to using a CRM
When I thought about CRMs, I thought about Salesforce or Infusionsoft. I've used both on client projects and, in my opinion, both products are crunchy, that is, I don't like them, and they are hard to use.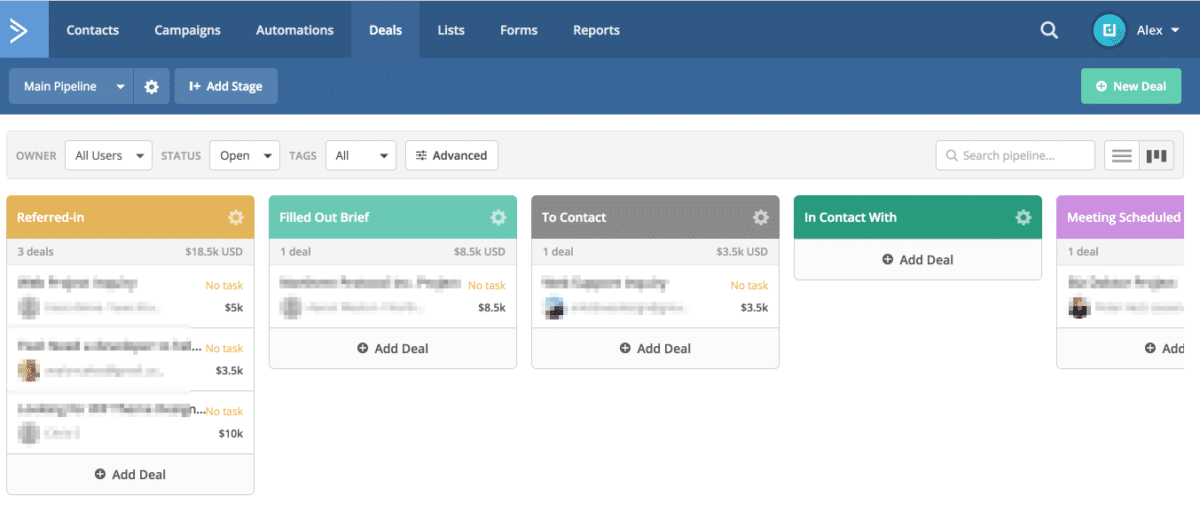 Why should you bother with a CRM? It's a good way to keep track of your business relationships with future and past customers. I've used my CRM to review previous conversations, to see where folks end up taking action on my website, what pages they visit, and to gauge interest in the services I am offering.
More than anything, if I didn't use a CRM for anything else I would use it only to keep track of who I'm talking to so that I don't forget. The other stuff is just the "cherries on top."
Step 3: Identify your goals
Folks I speak to get a little too hung up on this. If you boil everything down to it's most essential component, you want a person to do a thing. You want a person to buy the thing. You want a person to signup for the thing. You want the person to contact the thing. Whatever that THING is make no qualms about it and do it. It all begins with setting your intentions.
Envision the path for each goal. How do people come into your funnel? How do they get from that first action to the next action? What happens if they don't take the next step? What happens then?
A modern marketing automation sequence simply helps customers find their own path to "do the thing" you want them to do.
Picking your tools
For those of you who know me, it's no secret. ActiveCampaign has been my tool of choice for almost a year now (I first signed up in February 2016). There's a lot to like about their platform AND their community.
When I was doing comparison shopping and trialing all the stuff it came down to AgileCRM and ActiveCampaign. I had a few more colleagues using AC, so I went where the cool kids told me to go, and I'm happy that I did!
Many people think that ActiveCampaign is "just a Mailchimp clone." Nothing could be further from the truth. While comparable, I think ActiveCampaing has a lot of great functionality that sets itself apart from the Mailchimps or Constant Contacts of the world.
It has email marketing, list management, a light CRM, and an extensive API.
Your mileage may vary, but AC has been a game changer for me in trying to smarten up how I run my business. Finding and using the right tool is deeply personal, so find the thing that works best for you.
ActiveCampaign + Zapier + WordPress + BeaverBuilder = a website platform that rivals, if not surpasses, the higher end offerings of companies like Hubspot and Rainmaker
What have you been doing to up your "biz smarts" in the new year? Tell meh, I want to know!
Get Notified When We Publish New Content!
Join more than 2,500 people who get our marketing automation, business marketing, and WordPress news!