I saw the tweet that Pressmatic was announced as a Sponsor of the WordCamp in my backyard. I was curious and took a look. I saw an interesting product, one with promise. But it was something I already had a tried and true product for and didn't need anything else. I handed over my $99 to download my copy of Pressmatic and here are my thoughts on it.
For those who don't know, Pressmatic is a local server environment tuned for use with WordPress. So is ServerPress and I've been using it for the last four years with little complaint. So why think about switching to something new?
Mostly it's because I'm that type of person that needs to try all the shiny new toys. My bank account and savings account hate me for this very reason. Come on Alex; you don't need that plugin license. Stop it already! I can't help it.
Pressmatic Impressions
First look
Pressmatic is a robust tool out of the box. I didn't note any issues with setup. I double-clicked, and it installed. Yaay!
The one thing that Pressmatic does to differentiate itself and tout itself is that each site is containerized in its very own VM. You can choose between a few different options, including VirtualBox, when you first setup.
There's no documentation currently—which is entirely fine—because the install is straight forward. Clicking around helps you get acquainted with the many features that are available to you.
The interface is stark and clean; it's not hard to find what you're looking for. An 'add site' button in the bottom left looms inconspicuously so it could be hard to see, but that's more of a minor gripe.
The perks
And there are a lot of perks.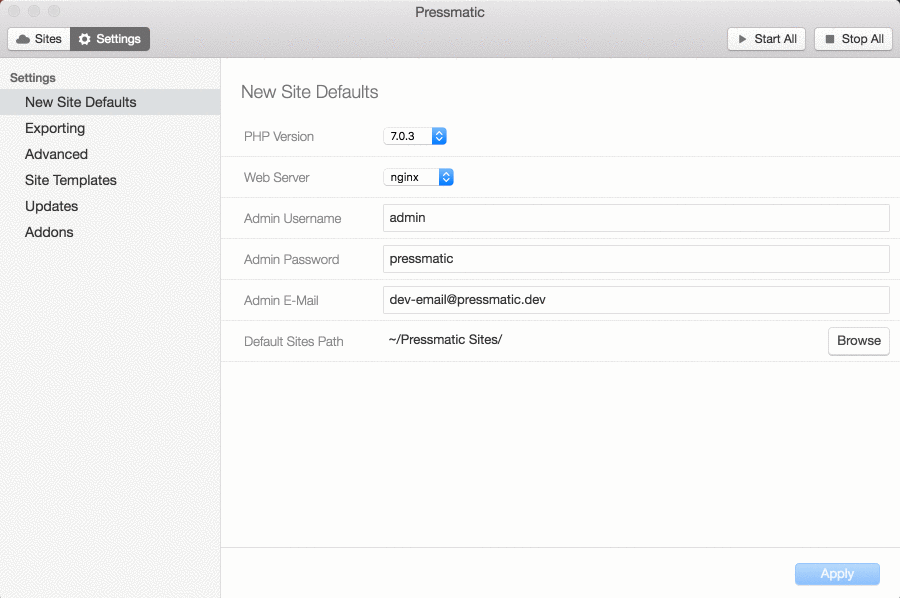 This Pressmatic app is cool. It's not as feature-rich as ServerPress, but it does have a lot of cool perks that are built-in.
I haven't used Docker, so I don't know what all the fuss is all about here. But Docker is the magic that makes it go. Each site runs as a separate container or instance, which is nice because they can use different versions of PHP and different web servers (NGINX or Apache). The use of Docker is what allows for taking advantage of virtualization technology that enables Pressmatic sites to run so independently of one another. The sites, even resource hungry ones, seem to run smoothly with Pressmatic.
The sites seem to run on Debian Linux 8 (Jessie). Currently, there's not a way to decide which OS you can run with at this time. If there is a way, and I imagine this has something to do with the image you use in VirtualBox, it's not documented—yet.
Site Templates
ServerPress allows for building out site templates and such, which is pretty great. Pressmatic does this, too. Nothing much to it. You can clone an existing Pressmatic site and use it as a template. The neat thing with this, as I do with ServerPress, is to use a WordPress install that is on the git WP Core Trunk—although Pressmatic does download the latest stable release for you. Using Trunk as your template, though, gives you access to development versions of WordPress so you can play with new features.
SSL
This item is probably my favorite perk. You can self-sign an SSL certificate locally (done automatically, you just have to "trust" it in Pressmatic) and then you have an SSL signed local site which is great when you're working on a remote site with a certificate in place but your local doesn't. That's long been a nuisance for me.
Changing URLs
ServerPress gives you a .dev URL by default. I've never had a need to change this, so it's never been a problem for me. However, Pressmatic lets you change your URL to pretty much anything you'd like and of course it updates your hosts file accordingly. Testsite.test? Testsite.alexhasnicehair? Sure, why the hell not?
SSH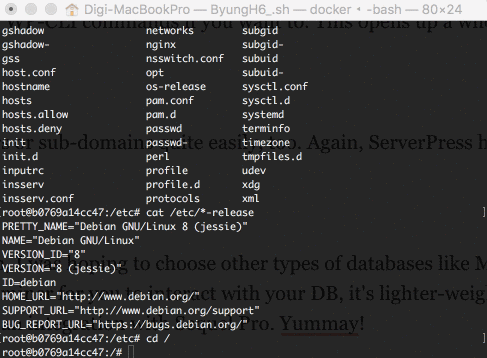 You can easily SSH into your local box and run WP-CLI commands if you want to. This feature opens up a whole other layer of awesomeness. WP-CLI is very cool.
Multisite
You can quickly setup WP Multisite with sub-dirs or sub-domains quite easily, too. Again, ServerPress has you covered there as well.
Database
MySQL is setup here, and that's great. Although, I was hoping to choose other types of databases like MariaDB or Postgres or similar. One nifty thing is that it bundles Adminer for you to interact with your DB, it's lighter-weight than PhpMyAdmin, I think. Extra points for having an integration with Sequel Pro. Yummay!
Non-WordPress Sites?
The aim of this product is to provide a no-fuss local environment that uses modern tech tuned specifically for WordPress. But what if you don't want to run WordPress? Well, right now, Pressmatic doesn't have a template for you to do that. BUT you can create non-WordPres sites, you just have to take an extra step. You need to create a new WP site. Then go into that site's public folder and remove WordPress's files. Save that site as a template and then you can easily spin up a non-WP site. In fact, I installed Drupal using Pressmatic, too. No problems.
Where it falls short against ServerPress
First off, Pressmatic is damn impressive. Really impressive. I like it quite a bit. As it stands now I don't need to see too many other features here, but there are some features I'd like to see, and I'll talk about those.
Do you even Mac, bro?
You can only use Pressmatic if you run Mac Osx. ServerPress is available on Windows, Linux, and Osx. Although, Pressmatic is built using Electron so porting over to Windows is in the pipeline.
Other nifty tools from the start
One thing I really like about ServerPress is that you can choose from a few nifty plugins such as Airplane mode and activate them, which can help depending on what your current dev setup and situation looks like.
The Team
Stephen, Gregg, Marc, Dave, and the rest of the team are just super smart and wonderfully generout people who give to and support the WordPress community like few other people I've met. When we run workshops for local businesses, or run a non-profit event like a WordCamp or class for Girl Develop it one of the first companies that come to our aid is ServerPress. Without flinching. Now, I know that doesn't add a "coolness" factor to the product, but for me, it makes a difference. Because when you put your money down it's not just the product, it's the team, too.
The folks behind Pressmatic appears to be Clay Griffiths of Headway Themes fame with contributions from a lot of other really smart folks. He's a pretty rad guy as well. I don't know him but have heard nothing but glowing reviews from folks in the community. He knows how to build a successful product.
Pricing
Pressmatic prices things out at $99 one-time. Cool, right? No. Good development and good products are worth your hard-earned monies. I truly think the Pressmatic folk ought to renew annually or at least for every major version release. That revenue will help keep the project going.
No imports currently
Currently, you cannot import zip archives or other sites into Pressmatic. ServerPress does this beautifully from backupbuddy or a standard zip file.
No deployments
ServerPress can deploy straight to cPanel. Pressmatic doesn't offer this currently. But hard-earned cash to the product that can help you deploy with modern tools like git to push or Capistrano.
Final Thoughts
Pressmatic is a very solid first-offering. It's a relatively advanced local environment. I'm impressed with so many of the little features it provides out fo the box. It still has some ground to makeup, but it will get there. ServerPress needs to get on the ball and roll out version 4 already, *nudge. =)
I don't believe that Pressmatic will make it into my workflow today, but there's enough good stuff there for it to be a viable alternative if I chose to go that way. I think it's a better choice than MAMP or XAMPP.
Give it a go and let me know what you think.
Shitty Featured Image Cred: Me =(
Get Notified When We Publish New Content!
Join more than 2,500 people who get our marketing automation, business marketing, and WordPress news!