Weebly or WordPress? What is Better for a Business Website?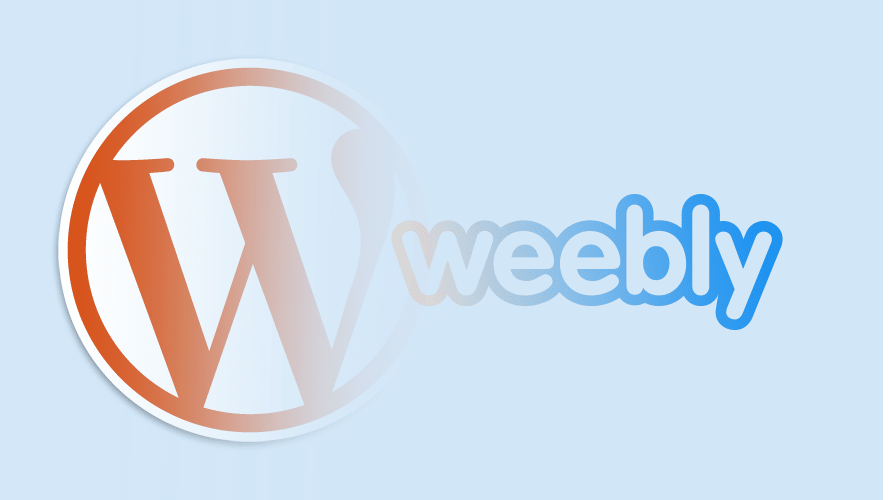 As a person running a company that builds websites for small businesses we've been warned that "the competition is coming to eat our lunch." That is, there's bigger, better, and easier services out there competing for the business of the clients I'm working with. It's not new and, certainly, it's something I've been affected by the last couple of years. But this isn't about me, it's about you, the business owner.
The question of: "What should I use to build my website?" comes up all the time. While we build almost exclusively on WordPress, I don't recommend it. I try to listen to what the client's needs are and what time commitment they are able to give, as well as their budget.
Why you might consider building your business website with Weebly
Easily build your site — They have a pretty awesome drag-and-drop page builder that makes producing a website pretty painless, given that they have a wide selection of templates to choose from that can be easily edited right away.
Mobile friendly — All of Weebly's templates are responsive out of the box, so that's a good thing given that over 80% of consumers start their research on mobile and as of April 2015, Google is giving preferential treatment to mobile-friendly sites.
Sell online — Weebly also provides a fairly straight-forward shopping cart that allows folks to easily sell goods and services online.
Other miscellaneous things — They have a pretty awesome drag-and-drop page builder that makes producing a website pretty painless, given that they have a great selection of templates to choose from that can be easily edited right away.
Optimization — Weebly optimizes your site on their servers, theory is that they know their systems best and how to make sites hosted their run faster so you don't have to worry about it.
When it comes down to these items, it's sort of a no brainer on why folks might want to use Weebly.
Why should you consider building with WordPress?
Admittedly, I am biased. I am a WordPress advocate and a big fan of WP's flexibility overall.
Literally, WordPress can do everything Weebly can and so much more. Now, WordPress doesn't have built-in drag-and-drop page builders, although there are some great solutions that provide this functionality. One is called Beaver Builder and we use it on this site.
I don't really think a feature comparison is useful here. What I think does matter is the cost, that's the core of the discussion anyway.
What are the real costs?
Everyone is budget-conscious, of course. Weebly, SquareSpace, Wix, many others provide a low-cost service providing an easy way to build a site using a drag-and-drop page builder. That's great.
Portability and Ownership
But there are other costs to consider that don't show up on monthly billing statements. While Weebly is a great solution, it's really a more simplified solution and some businesses need more functionality or they simply grow out of what Weebly can provide.The primary concern I have with these services is that they "lock" you in. Your content and templates must be hosted with them and the content cannot be easily migrated elsewhere, if at all. You'll be resorted to copying and pasting your content from your old site into your new site. In that regard, Weebly fails its customers by making it hard to leave. WordPress on the other hand makes it easy to leave and take your content with you. With WordPress, your content is yours, your templates are yours to take with you.
Configuration and upkeep
WordPress sites aren't simply set-and-forget solutions like Weebly sites are. WP sites need to be updated and sometimes those updates can break things, which is especially troublesome if you don't know how to fix it, or if you don't have a service provider who provides web maintenance services. Also, WordPress websites often require a large number of plugins to provide the functionality a business requires along with the expertise to use them (that's another point I'll make). Weebly takes care of your site for you, all you need to do is update your content. Easy peasy.
Search Engine lovability
While there's no concrete evidence to support this thought, it's been written many, many times that sitebuilder or mass-website-hosting platforms like Weebly or SquareSpace aren't given as much search engine equity as hosted solutions. Heck, Google de-indexed Wix for a week in 2015. Because of this, I still maintain it is better for you to host your own content on your own domain using a platform that is SEO "friendly" out-of-the-box such as WordPress, or Drupal.
The cost of building a website and maintaining it
Most reputable WordPress devs cost a decent chunk of change—especially if you're not outsourcing the work overseas. Weebly sites on the other hand or low-cost, which comes from monthly recurring fees. You are left to build the sites yourself. Weebly does have a reseller program where you can work with a verified provider to build a site for you on Weebly. In this light, though, a WordPress site will often cost more.What are you really paying for if you do pay a WordPress developer to build you a WP site? Well, for starters, you're paying for a custom-built solution from someone who knows WP on an expert-level. You're paying for expertise and guidance; you're paying for flexibility and power; you're paying for a solution that will grow with you. Weebly sites are sites that aren't as flexible, they are simple and do a few things well. And for a great many sites that's fine, but most of the businesses I'm dealing with have complex needs that require robust solutions that Weebly simply cannot accommodate.
what should you go with?
I know, I know. What do I think you should go with? Not every tool is right for the job, that's true even of WordPress, though it pains me to say it. Sometimes a simple site is all you need. Before making the choice, look into the future. Where do you see your business growing? What needs do you anticipate needing to fulfill through your site? Are you a Yoga Studio? Do you need to process complex payment types? It's hard to guess the future, but these are but a couple of questions to ponder before making a decision.
One path represents a more immediate need fulfilled while the other is an investment. Where do you see yourself growing and how will your site help you with that? The answer you come up with will guide you on a direction to take.
Get Notified When We Publish New Content!
Join more than 2,500 people who get our marketing automation, business marketing, and WordPress news!