Breakdance Page Builder Review: Is it Any Good?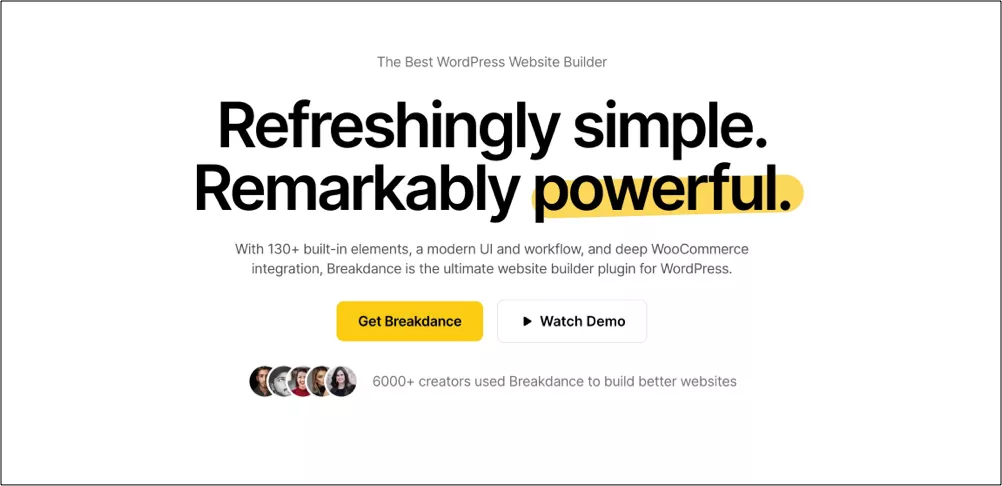 Recently, I provided my thoughts on several WP-focused page builders that are currently available. Breakdance is one of them from that current crop that has my attention.
This is me doing a write-up on the Breakdance Page Builder—I'll tell you what I like and what I don't care for aaaand I'm not going to talk about anything else other than that! Ya feel me?
Why You Should Care What I Have to Say
I've been building websites with WordPress since around 2008. I've seen the ecosystem develop and evolve over that time and the way I build WordPress sites has also evolved much during that time.
I've built several dozen websites in the last couple of years. I've built block themes using FSE, and standard block themes like Kadence Theme, and I've built sites with Elementor, and Bricks Builder, and coded from scratch. I've been in the trenches getting my hands dirty with this stuff. And when I tell you I have shiny object syndrome, I ain't lyin'! I've used most of the builders out there, love a few of em and dislike most of em.
I've seen some sh*t.
What is Breakdance?
If you're on Facebook, like WP, and are a member of any of the various WP communities, you've seen Louis's face beating down the likes of Divi and Elementor and touting the greatness of his newest product.
Breakdance is a page builder and the brainchild of Soflyy, headed up by Louis Reingold, who brought you beloved plugins and platforms like WP All Import, WP Sandbox, and another page builder called Oxygen.
Breakdance is the latest foray into the page builder ecosystem from Soflyy—the market is saturated, but that's not a bad thing. The WordPress aficionado can build a website the way they want with the tools that are the best for them.
Louis Reingold, the self-described world's best human, has proven time after time that he and his team can deliver a great product. Louis is good people and has put forth money in support of WordCamps around the world. I respect that so much! I want to see Louis succeed with this latest venture. I think it'll get to where he wants it to be on the strength of the polish and function of the product.
Breakdance has positioned itself as the Elementor Alternative. How does it match up? Will you like it? Will it improve your workflow? Read on, my fellow WP Shleps!
Why Breakdance?
Soflyy already has a page builder, so why build another one? I've built a couple of websites using Oxygen, which is an impressive builder in its own right. The prevailing notion around Oxygen is that it's more of a developer tool and not as approachable to the lay user, one who isn't as familiar with the concepts of building for the web.
More than just an expensive domain name, Breakdance is an exciting entry into the space and one that is challenging the big players in the space. With Breakdance, I feel the motivation was to build a lean, easy to approach website builder that hits the right mix of flexibility and ease of use and appeals to the same crowd who build websites with Elementor. And Elementor is used and loved by many, proven in the millions of websites built using it. I get wanting a piece of that pie.
Will Breakdance be compelling enough on the strength of its product and underdog status? Let's dig into it!
Breakdance Pros and Cons
Pros
Pleasant UI – Breakdance provides a somewhat familiar building experience for Webflow or Oxygen users. They provide a clean interface that's a joy to use for the most part.
Simplifies the Complex – Breakdance uses terms that are, I think, easier to understand for those unfamiliar with building for the web, possibly making it easier for less experienced users to understand. They also abstract away possibly complex functions to avoid getting in the user's way. While I list this as a pro, it also presents a problem in my opinion.
Element Library – Breakdance boasts over 130 elements in its builder. The number of elements, in their view, will surely reduce the need for 3rd party plugins that add specialized elements. I messed with most of the elements, and they provide a good mix of utility and customizability; impressive, actually.
Performance – Breakdance is fast; it loads assets intelligently and doesn't blast its scripts on every single page, which is necessary and should be the expectation.
Cost Effective – Currently, it's $149 annually—no Lifetime Deals here, which is good. They say it's normally $349, but between you and I, I've never seen it priced at that price point.
Template Library – Breakdance provides a nice collection of website layouts to get you inspired and tinkering right away. Personally, their UI Kit library, Samba< is a tad more compelling and how I prefer to start a project.
Active Community – Breakdance has an active FB community of folks who are there to provide feedback and support. Impressive.
Cons
Confusing for this experienced developer – I've built many sites over the years. And Breakdance throws me off a bit. I spent about ten minutes trying to figure out how to set a section to display: flex. I felt like a very stupid man. To be fair, it is confusing to do that. In its bid to be easier to use and approachable, it abstracts some settings into its advanced panel. There are WAY too many clicks that need to happen to set the display of a given div/section.
Difficult to pick up and just Breakdance – With Bricks or even Oxygen, for me, it was easy to get started and build my layout right away. And perhaps that's part of what gets sacrificed to appeal to a less initiated audience. I struggled mightily to do simple things. I was using their online demo sandbox and couldn't get the section to display two divs next to one another. I put this squarely on my own shoulders than the product itself. My perspective is going to be different than a less experienced user.
Lots of clicks to do simple things – As evidenced trying to use Flexbox, lots of settings and menus and sub-menus are only visible through various clicks in some cases. I counted up to six clicks in some instances. This doesn't ruin the editing experience necessarily but it does make the process cumbersome when you're trying to get into a groove.
Lack of Functionality in Template Library – I could be missing something but I couldn't see how to create my own template library and share my templates with other Breakdance sites. I don't believe that's a feature but certainly one I've gotten mileage out of using Bricks and Elementor.
Integrations
It was kind of difficult to find what 3rd party services Breakdance integrates with. This URL https://breakdance.com/integrations/ pops up in their search results when looking for "Breakdance integrations." They should probably fix that.
Their form builder integrates with popular email marketing service providers like ConvertKit, ActiveCampaign, and MailChimp. Their form can send data to Slack as well.
Breakdance 3rd Party Ecosystem of Plugins and Tools
Breakdance is newer and doesn't have the same ecosystem as Oxygenbuilder, Elementor, or even Bricks from what I've seen, and that's okay. Page Builder add-on libraries don't add a ton value save for maybe that super specific website element you just gotta have for your project. That said, I was shocked there aren't more 3rd party plugins in support of Breakdance—however, BD is one of the newer entrants to the WP Page Builder space so that's probably why.
Destiny Elements – Your typical element library add-on, it adds elements that Breakance doesn't natively have.
Breakdance Awesome – A Breakdance template library for inspiration. I looked at these layouts and… I probably wouldn't use these myself but they're not by any means terrible but the sites I build typically aren't made from templates to begin with.
Elements Hive – Another element library add-on. They have unique, if useless, elements that you can slap onto your Breakdance website.
BD Design Library – A collection of components you can use for Breakdance. Generally I'm a fan of these types of "component libraries"—this library will give you a head start for sure and they look decent and minimal.
Is Breakdance Here to Stay
As with any tool, you never know. The effort to build a sustainable product is there. Louis and the team are putting in the work, and I expect the builder only to get better.
According to Built-with, there are roughly 6k+ websites using Breakdance as of this writing and that number is only increasing.
Many questioned the necessity of Breakdance when they already had Oxygen. Why not invest all that time and energy into Oxygen? We have to look at who Soflyy is aiming at and the specific customer base there. Oxygen is a more niche builder, one built for developers and Breakdance aims to reduce the learning curve for building great-looking, fast websites.
A Quick Word About Page Builders in the Era of the Block Editor
I've said a lot about the WP block editor. It's a difficult beast of burden to wrangle and it's also the future of WordPress that only gets better with time. I wonder how useful it is for those of us building with WP to build with tools that don't align with WordPress's vision of content creation. And this isn't just Breakdance, it's all of the other builders out there, Bricks, Divi, Gantry, etc.
I feel like Kadence and GeneratePress represent the class of tools that walk in-step with the direction of WordPress and it's a good idea to see how those tools continue to evolve. Both teams are doing top-notch work with their respective products and are worth looking into as you seek out your go-to theme of choice for client projects.
Is there any risk in using one of these Page Builders? Will they be obsolete-d by the direction of WordPress content creation tools? I think it's unlikely but it's certainly worth thinking about.
Is Breakdance the Right Tool for You?
Breakdance is a great tool and is positioned squarely against world-beater platforms such as Divi and Elementor. The crowd that uses those builders is arguably a crowd that skews less experienced when it comes to building websites from the ground up. I have no data points to back up that statement, so please don't come at me with hate. I'm happy to be proven wrong, I love to learn. =)
Would I use Breakdance? This is not the builder for me. While it is flexible, it's less flexible than its competitor, Bricks Builder, in my opinion. Dynamic Data tags in Bricks are such a wonderful tool that I found I missed in Breakdance while I was testing it.
I struggled with implementing simple layout structures and I put that on my inexperience with the tool mostly, rather than on Breakdance itself.
Closing Thoughts
Whether you are a less experienced builder looking for an approachable tool to build websites with and stay in the WordPress ecosystem or a battle-tested website-slinging veteran looking to optimize your workflow, then Breakdance is a great choice from a growing field of builders 💯.
Get Notified When We Publish New Content!
Join more than 2,500 people who get our marketing automation, business marketing, and WordPress news!