Helping Your Favorite Small Businesses During COVID-19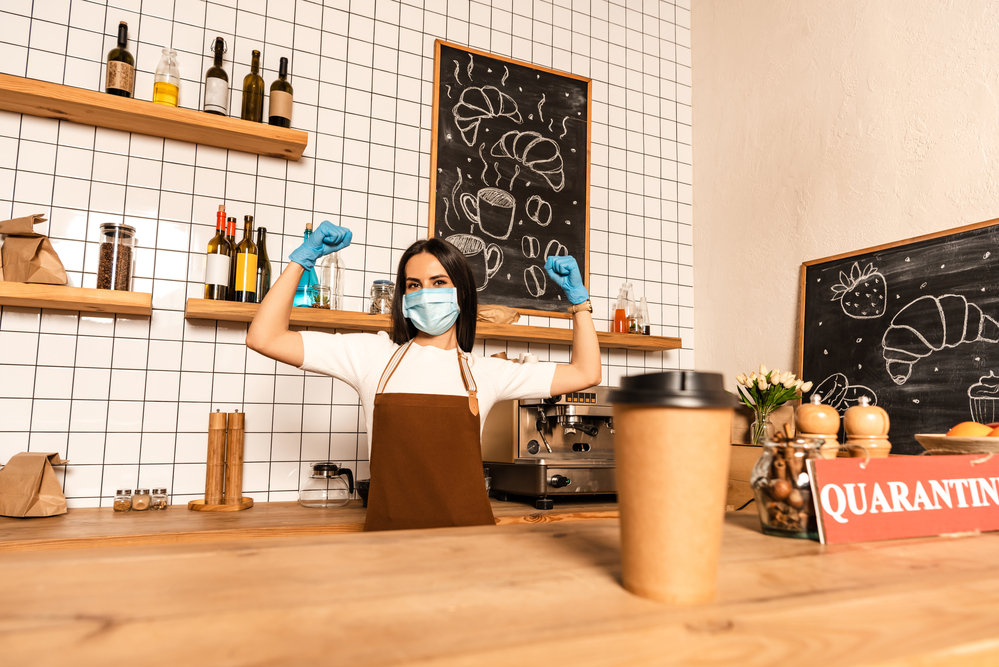 Today's Monday. Wash your hands 😉
Crazy time, am I right? Unemployment rate has gone up dramatically, we're basically only allowed to go to the grocery store, and we're unable to see our friends and family. My older sister is on the front lines working at a hospital as a Clinical Pharmacist, and I haven't seen her for a couple of months, and if I'm being realistic, I probably won't see her for the rest of the year. So, a special shoutout to all essential workers right now and always! We appreciate you!
Personally, my jobs have been affected by COVID-19. I run my own photography business on the side (Enzie Photo) and a lot of photo gigs were canceled. I had a couple of bridal showers and baby showers that had to be canceled or rescheduled because of our situation. However, I'm thankful to be able to work with DigiSavvy and during this time in general. My passion for my own business and small businesses motivated me to write this article on how to help out YOUR favorite small business or contractor/freelancer.
The SBA has a lot of resources for businesses that need help and assistance. They have funding options, local assistance (SBDC), and guidance for businesses and employers. Click here to see how they can help out!
SBDC is also hosting  free workshops, one is happening virtually on May 22nd. Our very own Alex Vasquez will be discussing the current e-commerce landscape in the time of COVID-19. Sign up for the webinars here!
There is also assistance for small businesses at a local level. Read more here to find out
It's gonna take some time to adjust to the new reality but here are some ways we can help our business community get through it.
Support a restaurant or cafe by ordering for delivery or pick up (if you can)
I know most of us love to eat at In-n-out, Chick-Fil-A, or big chain restaurants but during this time we should make the conscious decision to choose a local restaurant that usually doesn't get too much love from the community. For example, instead of ordering a pizza from Domino's or Blaze Pizza, order from the small pizza shop in your city.
Leave them a review
Go to Yelp or Google and leave your favorite small business a review. Don't forget that you can also leave a review for them on Facebook. Like their Facebook page, give them a star rating and talk about your experience working with them or purchasing their product or service.
Share a photo or post on your social media and tag them
Do you have a favorite freelancer or business that isn't working at all right now? Show them some love on your social media. Scroll through your contacts list or who you are following on social media, post a photo or share one of their posts on your account and make sure to tag them!
A family-owned Argentinian restaurant in LA, aka Carlitos Gardel, has been boosting up their social media efforts since the Stay-at-Home order has been put into effect. We reached out to them and asked them how they have been handling changes due to COVID-19. Gerard, chef, and principal of Carlitos, mentioned that he didn't have too much fate in the power of social media before this pandemic. He said that before the pandemic they used to have live performances at their restaurant every weekend. In order to stay creative during this time, they started Facebook lives on their page, where they are hosting these performances and encouraging people to tune in from home and ask questions about the business.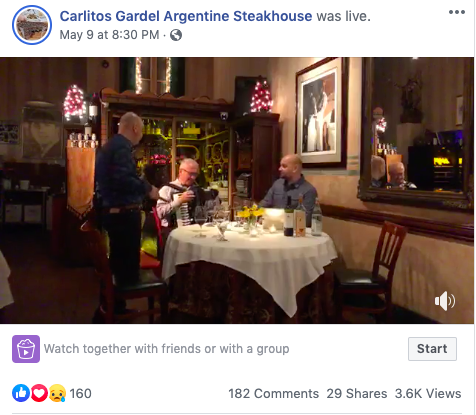 Their fans and customers enjoy these performances in the comfort of their own homes, what an idea! Gerard mentioned that he was surprised by the power that social media holds and the support from the LA community. Let's do the same as the fans of Carlitos and support our favorite restaurants on social media!
Buy a product online
Some small shops and boutiques have e-commerce sites that you can shop from. Search for them online and if you're able to make a purchase or buy a gift for a loved one, I'm sure they would appreciate it 🙂
Buy a gift card for yourself or as a gift
If there are any local clothing stores or serviced based businesses that you want to stay open post-quarantine? Buy a gift card from them and either save it for later or pass it on to a friend or family member. P.S. This would be a great birthday or Father's Day gift!
Tip the ones that are putting themselves at risk
A lot of workers are risking their health and lives by coming in contact with multiple people a day. If you can, tip the restaurant or cafe employees extra during this time.
Schedule an appointment for the future
Ladies!! (And gentlemen) I know your roots are growing out on your head, you want to get your nails and eyebrows done. Call up your hairdresser and see if you can be put on their waitlist or set up an appointment with them in the future. This will encourage them and let them know that we are still supporting them.
Send a text, email, or call to check-in!
REACH OUT! Ask them how they are doing. Let's all remember that this is a hard time for a lot of people so if we can cheer each other up just by sending a text, then let's do it!
Remember, this is only temporary and let's do our best to try and help each other out. Stay safe.
Get Notified When We Publish New Content!
Join more than 2,500 people who get our marketing automation, business marketing, and WordPress news!