Website Performance- Website Development Cheat Sheet Pt.3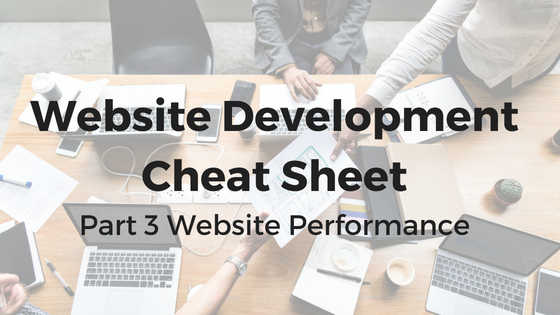 We're almost at the finish line.  Once you've developed your website and found your marketing strategy, it's time to keep an eye on how well your website is performing.  By adding analytics, checking on SEO performance, protecting, and evaluating the health of your website you will be able to maintain and stay up to date.
Website Analytics
After you have launched your website, you want to see how well it's performing and what's popular so you can create more content or promote certain pages to build more traction.  This is only possible when you install analytics on your website.  A great free tool that we love to use is Google Analytics.  Google Analytics can measure how many views you're getting and can also track what kind of audience you have in terms of demographics, behaviors, and interests while ranking them from most popular to least popular.  This is FREE so if you don't have it, add it ASAP!
SEO Performance
How are your Meta titles and descriptions?  Have you added header tags and key phrases to your articles and other content on your website? By adding specific Meta titles and descriptions, as well as header tags and key phrases, you'll be able to increase the performance of your website by optimizing the number of searches your business appears in and therefore increasing your business' visibility online.  The following article further explains how updating these factors can improve the SEO performance and how it affects your business.
Protect
You don't want people messing up all your hard work, right? Hackers are just waiting to take advantage of vulnerable sites, which are usually a small business that doesn't fully know the importance of website security or what steps are needed to have a secure website. Hackers can target your customers and therefore impact your online presence by causing you to lose potential customers. Customers will quickly lose confidence in your services if you fail to adequately protect their information. To avoid getting hacked you have to be careful with how you manage your passwords.  A great tool that the team at DigiSavvy uses is 1Password, an online service that encrypts all of your passwords, so your company can have access to all the passwords you use in a secured space that is available on any device.
Website Health and Performance
Just like you need to go in for your routine health check-ups, your website needs check-ups to see how well it is performing.  Are the pages loading too slowly? Do you have images that are taking up too much time to load? Are there links or pages that don't open anymore?  These are important aspects to keep in mind when looking at your website's performance because it can discourage potential customers from looking further on your website or having confidence in your ability to stay up to date online.
That's it, folks! We hope you enjoyed the three-part break down that made up our Website Development Cheat Sheet, and if you have any questions on any parts, please ask in the comments below. Best of luck on your website and business development!
Get Notified When We Publish New Content!
Join more than 2,500 people who get our marketing automation, business marketing, and WordPress news!