Starting a New Website- Website Development Cheat Sheet Pt.1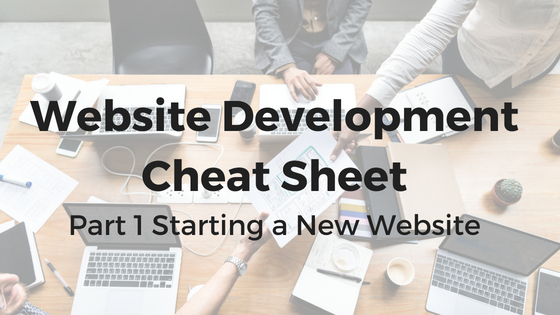 Starting a website can be intimidating.  As a business owner you know you need online visibility, and sure, you know how to do a few things on the computer, but there's a learning gap of exactly what it takes to get an up and running website.
This is Part One of our Website Development Cheat Sheet where we'll break down the steps of what you need to have a fully functioning, successful website. This is a three part series where we'll go over how to start a website, how to market your website, and how to check your website's performance.
In this stage of how to start a website, we broke it down to these four crucial questions you have to ask yourself: What are your website goals? What are your content goals? Where should you build your website? Are you ready to launch your site?
What are your website goals?
When you're still in the development stages of building a website it's important to sit down and really think why you want to start a website; yes, everyone should have a website, but what goals do you want your website to have in order to help your business be more successful?  For some it's to drive more sales, others want to sell online, sometimes it's purpose it to be informational or all of these at the same time.  Your goals for your website are as unique as your business, so tailor them to what fits your needs.
Typically, a lot of people ignore this step, but it's similar to a business plan when you're starting a business.  You want to have a guide to remind you of the purpose of your website and keep you on track for growth.
What are your content goals?
You should have an idea of what kind of content you'd like to have on your site.  Typically a home, contact, service, product, and shop page are on a website but it doesn't mean that every website needs all of these sections.  Add different categories and subcategories that best align with your business and goals to your website.
Write out exactly what kind of content you want to see on your website and how it will format on your site to best represent your online presence.
Where to build your website?
Do you know what platform you're going to use to build your website?  The platform of a website is very similar to the foundation of a house in the sense that you build up from it. Some of the most popular platforms are Wix, Squarespace, and WordPress. Wix and Squarespace are both great options to have a quick website that you can create yourself, but when you want to develop further, WordPress is recommended because of the large variety of plugins that they offer to help create a website that fits your business' unique needs.  Once you have determined which platform will house your business' website it's time to add your content and prepare to launch.
Launch Your Site
Woohoo! You finally have your website up and running so it's time to launch it for the world to see.  Before you do just that, double check your grammar, spelling, and links because it's important for website visitors to get the best version of yourself.  You don't want to lose their service because of a small grammar mistake or a broken link.
CONGRATS! You have completed all the beginning steps to set up a website.  Breaking it down to these steps will help overcome the hurdles that come with developing a fully functioning website and making it big online. Check out your next steps here.
Get Notified When We Publish New Content!
Join more than 2,500 people who get our marketing automation, business marketing, and WordPress news!