How to Identify User Intent to Create Content that Gets Traffic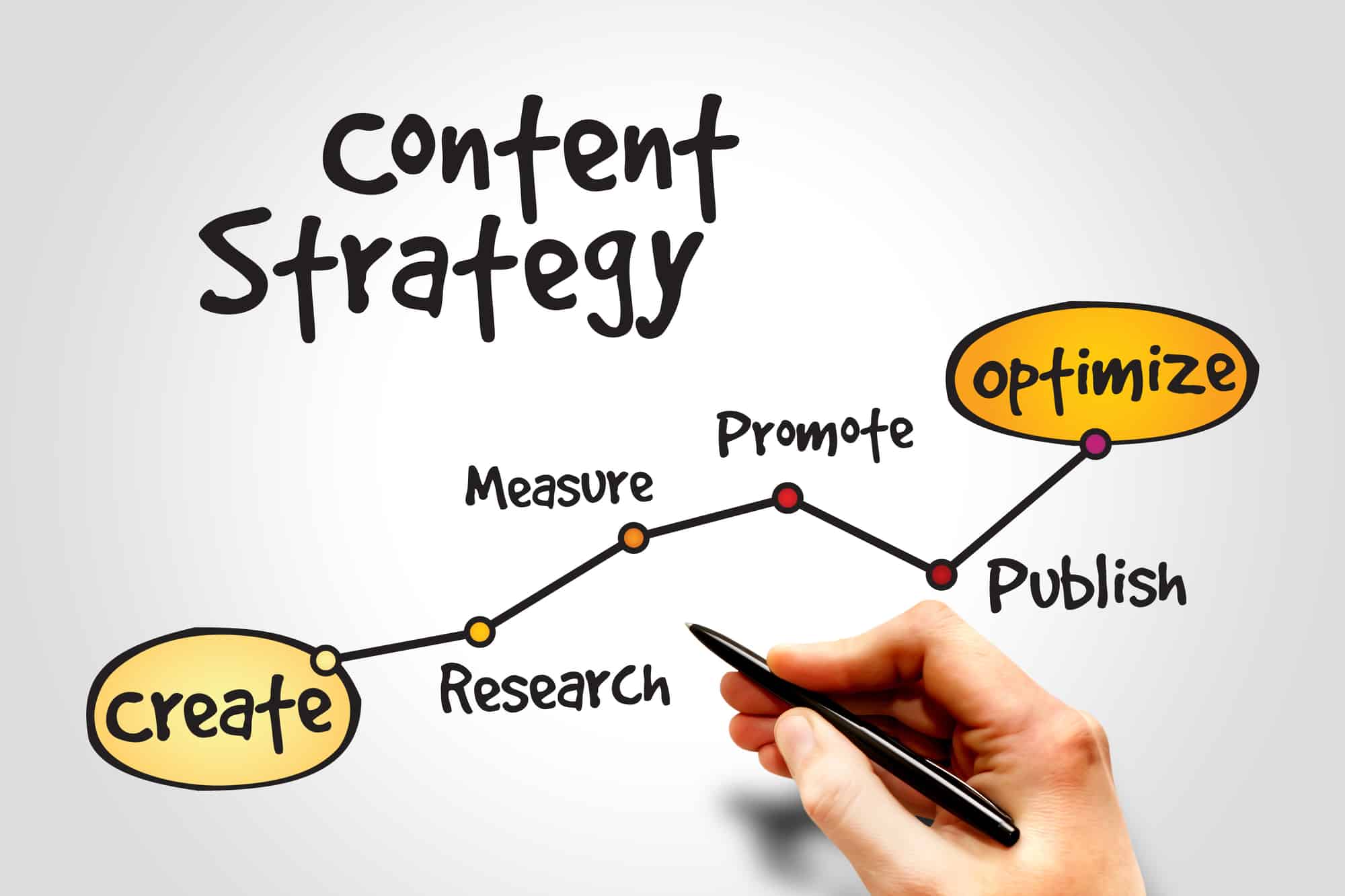 Anyone who types a query on a search engine has an intended topic in mind. That's because most users visit search engines to find immediate answers, not to mindlessly scroll. Hopefully.
According to Think With Google, "We all now expect an immediate answer in the moments we want to know, go, do, and buy. And all of these intent-rich moments create journey shapes as unique as each of us."
This pre-existing purpose that shapes our searches is called search intent or user intent – also known as Google's ultimate goal. ​​​​​​​​​​​​​​Google, as well as other search engines, wants to serve up the best results for users no matter the nature of their search. ​​​​​​​​​​​
Think about yourself when Googling something. You know exactly the types of results you'd like to come across when searching for a keyword like "Best CRM Tools."
Your plan is to immediately find and compare the greatest CRM tools in the market, preferably without browsing too much. 
If you find one or more results helpful, that means the creators of those pages did a great job of identifying and matching your search intent. And you should do the same for your potential visitors.
How Identifying Search Intent Can Increase Website Traffic
Here's a silly example.
You're looking to buy a pair of shoes. The pair you want is already in your mind. When you enter the store, the associate in charge won't stop talking about why the right pair of shoes matters. They go on and on about brand, size, and collections…when you already know all of those things. You just want to buy a darned pair of shoes. 
You get rightfully annoyed and leave the store. The same thing happens when you don't match user intent: you watch your potential traffic leave.
That's why identifying search intent is crucial to 1) driving leads to your page and 2) keeping them there once they land.
Plus, by providing leads with information that answers their query, you don't give them a reason to visit other pages. This helps Google boost your page higher on the search results, so people like them can benefit from your relevant content.
This way, you'll keep driving qualified leads to your website – thus increasing the chances of turning them into happy, paying customers.
How To Identify User Intent
So, what are the steps to identifying search intent?
Let's replace that question with the following:
What words does your audience use searching for your solution or solutions like yours? And how do these words change according to their stage in the buyer's journey?
To answer those questions, you need to re-familiarize yourself with the types of search intent.
Quick Recap: the 4 Types of Intent
According to almost every SEO expert on the planet, all search terms fall under 4 different intent categories: informational, navigational, commercial and transactional. 
When the intent is Informational, users want to learn about a topic, preferably step-by-step. Informational searches typically happen during the evaluation and exploration phase of searching. 
Examples: how to make money online, how to tie a tie, how to delete my Instagram account
When the intent is Navigational, queries bring up specific websites and brand names. Users already know what they want, where they want it from, or where they want to go. 
Examples: Twitter, facebook.com, Nespresso machine Amazon
When the intent is Transactional, keywords like "buy" "sale" "price," and "near me" accompany the search. These users are primed and ready to buy, so they go for terms that are typically found on product or category pages.
Examples: karate lessons near me, used cars for sale, iphone 14 buy online
When the intent is Commercial, users know they want to buy something but need some help doing it. They're looking for information to help guide them to the right product.
Examples: MacBook Pro review, best camera for streaming, top 10 CRM software
Of course, the search intent of your potential visitors will fall into different categories depending on the stage of the buyer's journey. That's why different pages on your site need to satisfy different kinds of intent. 
Here's how to find out whether your content matches the right intent.
Look at the Search Engine Results Page (SERP) for the Main Keywords You're Targeting
To avoid wasting your time creating the wrong type of content, you'll want to check the search intent for that keyword before you do anything else.
You'll do that by looking at the pages that already rank for that term. After all, if they're ranked in the top 10, they get a thumbs up from Google's intent test. 
For example: if we look at the term best CRM tools, the following results come up: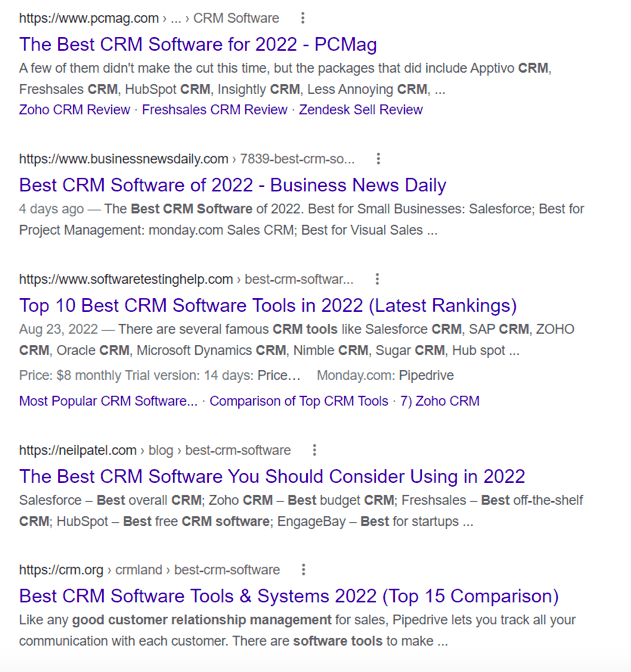 These results are mostly commercial because they offer curated lists of CRM tools to try. All of these pages are aimed at people considering using a CRM system. They already know what it is and what it does, and they're ready to jump into the differentiators.
So, if you wanted your content to rank for this keyword, you'd need to create a page optimized for Commercial intent.
Of course, that means you'd be competing with Neil Patel and other giants, so your job goes beyond matching search intent. You can boost your research by analyzing the content of the highest-ranking pages. This will give you ideas on how to build on existing content. 
Pro tip: avoid getting biased search results by searching in incognito mode.
Know How Users Search For Solutions Like Yours
What do users specifically type in search boxes when searching for your solution?
Tools like Google Search Console and SEMRush will help you understand which keywords you're already ranking for. 
This knowledge will help you focus your efforts on the keywords you know people associate with your business instead of relying on hunches and potentially failing. 
For example, if you know potential visitors are reaching your site by searching "CRM tool for small business," you can focus on that keyword to create new content relevant to their search intent.
Never Ignore "People Also Ask"
By definition, people also ask is a search feature that shows questions related to the query users have typed.
Back to the CRM example, the query "best CRM tools" will surface the following questions:

People Also Ask means Google is essentially handing you popular terms on a silver platter. These are questions people have around this topic, and they're fuel for your content creation – especially when it comes to Informational intent.
When brainstorming content ideas, look at the People Also Ask boxes in the search results, and do your best to answer those exact questions in your content.
Know That Your Work Isn't Done When You've Identified User Intent
You can match your users' intent to a T. But if your content isn't clear enough to guide them quickly to where they want to be, your efforts will be in vain. 
This is where your additional SEO knowledge comes into play.
If you're writing how-to content for Informational intent, the information you present should be, according to Google's SEO Starter Guide, "factually accurate, clearly written, and comprehensive."
Now, if you're writing a product page for Transactional intent, that content should help users find the products they want and buy the products easily. Otherwise, they're just one back click away from another solution.
According to Brian Dean, founder of Backlinko, "Google can tell if people aren't loving a specific search result. And if they note that a search result isn't a good fit for a keyword, they will downrank it." No one wants that. 
Revamp Your Existing Content to Match Search Intent
I'll bet that you have great existing pages on your site. If that's the case, you'll want to review them to be sure they match the desired intent.
You won't always need to create content from scratch, which is great. You might even be lucky enough to have pages that don't require any change. Still, you should take enough time to analyze your content to see how well the existing information matches the search intent of top results.
If your content doesn't reflect the keywords people use to find it, you'll want to target new ones with the right intent and update your content accordingly. 
Matching Search Intent is About Meeting Visitors Where They're At
When you exact-match users' intent, you increase your chances of keeping them on the page up to the point of conversion.
This article showed you how to become an exact match for users. Your ability to keep and convert them will depend on how well you apply your SEO knowledge. 
Essentially, identifying and satisfying the intent of a search is just one of several guidelines Google uses to rank your content. So don't rely on it alone!
For serious traffic growth, combine what you've learned about search intent with the SEO better practices in your skillset. You're welcome.
Get Notified When We Publish New Content!
Join more than 2,500 people who get our marketing automation, business marketing, and WordPress news!