How to Leverage the Power of Referral Marketing to Get More Business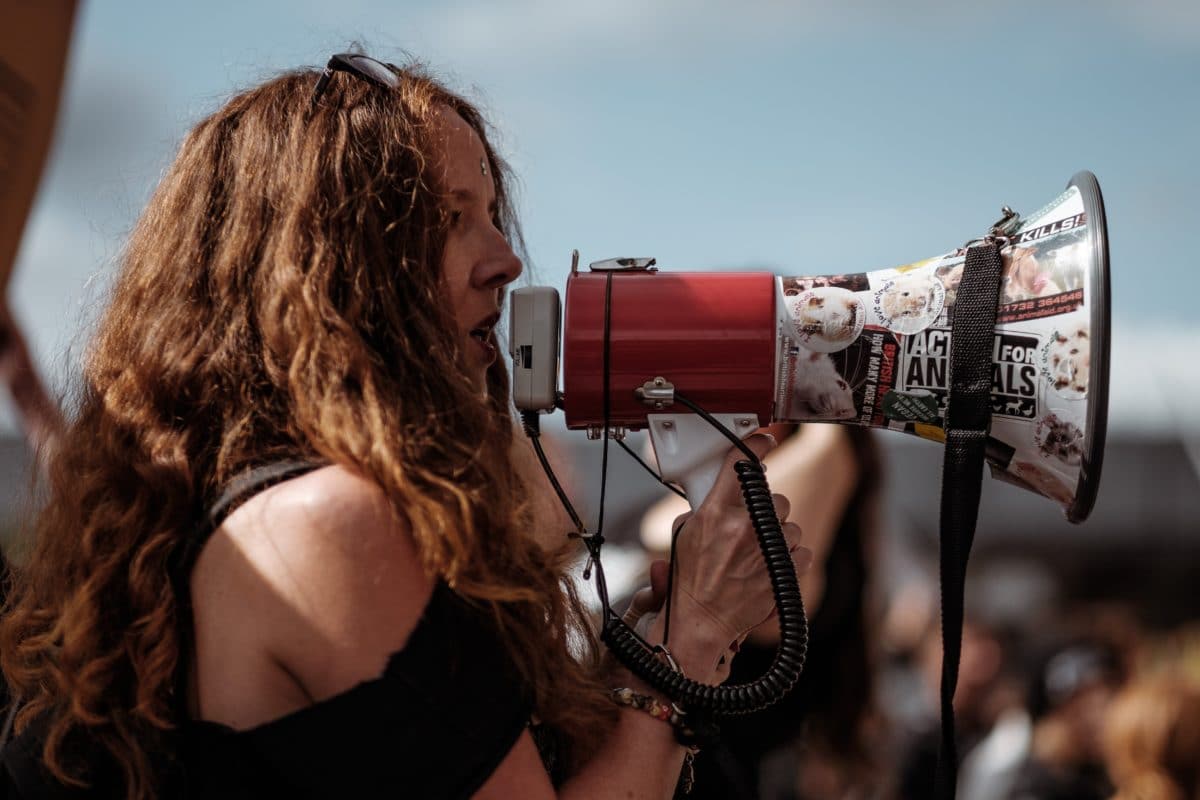 "Word of mouth is the best form of marketing."
Many of our leads and clients tend to agree that word of mouth marketing is the most powerful form of marketing.  Back in the day, businesses would generate a majority of their business from a lead that was referred to them from their network.
As times have changed referral marketing has expanded beyond the in-person exchanges and has really grown into the online space in the internet age. Make no mistake, this tried and true flavor of marketing has not died and, if anything, has only increased in strength and usage by marketing companies and services.
An example that hits close to home (literally) is my dad. I love that guy! He's probably going to read this later so, hey dad!  My dad is a chiropractor who owns his own small business. He's been in the industry for over 35 years and he has told me numerous stories of how it changed so much these last few years.  Most of his referrals were from word of mouth and that's how he would stay busy in the majority his career.  Now that he's older, he's competing with younger chiropractors who are a little more tech savvy than he is and focus on online marketing and email marketing to get referrals and stay competitive. It is frustrating at times because the market has changed so much, and it seems like everyone has to be online… Does this experience sound familiar or somewhat similar to what you're going through?
In this article we'll be touching on a few things when it comes down to referral marketing online and how you can improve your referral marketing strategies:
What is referral marketing?
Why does it work?
What's the process?
Resources available & Tips
What is referral marketing?
The way I look at referral marketing when we get down to the root of it is having current customers advocate and share your business with their friends.
How does that happen? Well, when customers like your product or service, they promote you to their friends AKA potential customers who could also be interested in your business.  When they make a purchase and like your product/service then they want to share their positive experience with your business to their friends, and then their friends share with their friends and so on and so forth…
Referral marketing is really about creating fans of your business and having them be your personal spokesperson or brand ambassador. The more fantatics you have of your product or service the better.
Why does it work?
So how does this work?  Consumers are wary of their purchases being a total flop and are conscious of how it benefits them.  I mean, they can't spend their money all willy nilly, they have bills to pay and mouths to feed.  Think about the time you bought something, like a phone for example.  You had high hopes for the phone to fit your needs, but it was a huge disappointment. The battery life was short, the camera quality was blurry, and you couldn't even hear people well when making a phone call. This type of experience happens more often than not and can be discouraging for the consumer who is looking for something that will benefit them positively.
Now think of the time someone recommended a business to you because of how much they liked it and they thought you would enjoy it equally as much. Going back to the phone example, you tell people how frustrated you are with your phone and one friend tells you how much they love their phone. You trust their judgment and have more faith in the product because of the relationship you've already established with the person who advocated for them. You fall in love with the phone (YAY!) and the product was everything you were looking for. You wish everyone could experience how your feeling with your purchase and you share your experience with your friends.
In these two different examples, the first one shows how discouraging it can be to try out new products and learn that it wasn't what you were hoping for, and the second shows how you can gain confidence in a business never used before because of other people promoting them. For consumers, referrals are a way to have a better experience with their purchases.  For businesses, this is one of the best ways of getting exposure.
What's the process?
Now let's get into the nitty-gritty.
There are multiple types of referral marketing, but we'll be focusing on email. When I'm starting to do something I'm not used to (like referral marketing via email), I try to break it down into steps, so I know what to hit in the process.  Below is a step by step method of how you can set up your business' email referral program processes.

Invite Email-
The purpose of an invite email is to start a conversation with your customer to show you want to continue their business with them.  This can be done by first, bringing awareness of more products, specials, and deals that can make them a more loyal customer and then invite them to refer their friends to also take part in your business. Below is an example of Pink's referral invitation email to friends that would also like to join their "Pink Nation".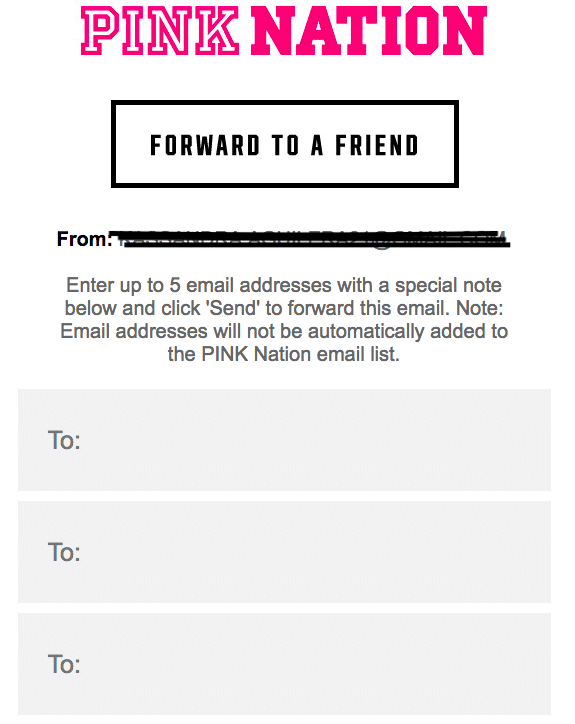 Reminder Email-
The reminder email is for clients who are on the fence about sharing your product with their friends. They need a little push to take the initiative to share your product, and what better to do this than a coupon for their next purchase or a free item when they refer a friend and their friend makes a purchase.  This is done in different ways, but below is an example of PayPal when they first were incentivizing users to share PayPal with their friends to receive $5 per friend.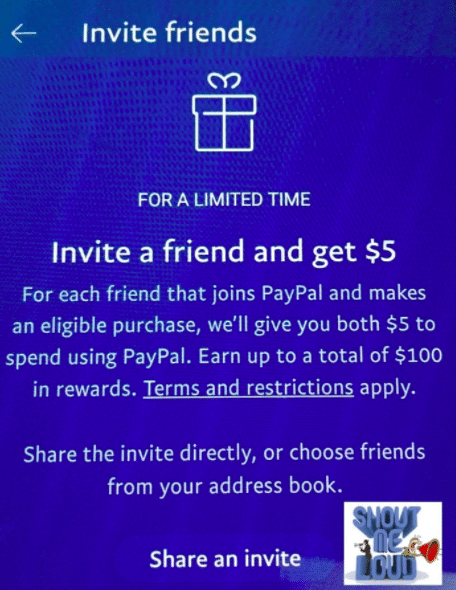 Thank You Email
Yay! So, you got your consumer to not only make a purchase but the friends they referred also made a purchase. That's it, right?  WRONG. It doesn't end after the sale.  Doing that is like going on a date and them never texting you back. Who does that? Not you! What you are going to do is take that extra time to let the customer know that the friend they referred found value in what they shared with them, because people feel warm and fuzzy after making that connection between business and friend.
Reward Email
After the "Thank You" email, you can send a Reward email, sending them a gift for the purchase their referral had made.   Here's an example of Dropbox who doesn't just notify the referrer of the purchase made by their friend, but also rewards them.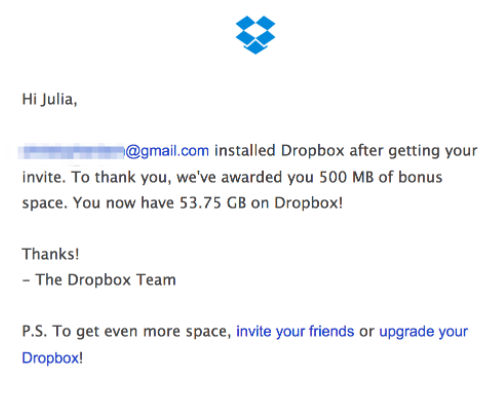 Scoreboard Email
Keeping a scoreboard of how many purchases and referrals were made helps build the relationship with the customer and gets them excited to see their donation, purchase, or referrals grow.
Other Ways to Generate Referrals
Creating products that are well-packaged position themselves to be sharable. Many box clubs out there do a great job of this — companies like Trunk Club or one of Alex's favorites, Gentleman's Box do a great job and their customers often take to social media to share the loot they receive each month. Whether it's a product or an experience, make sure you remind people how they can share with their networks.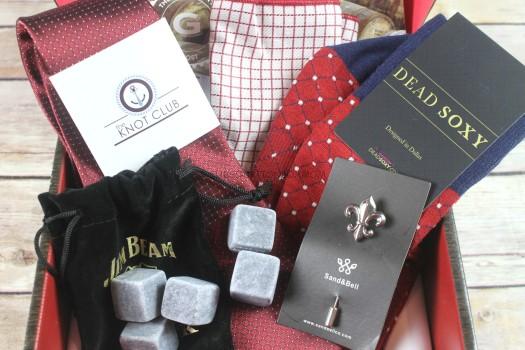 When we had the opportunity to meet with the Founder of CloudSponge, Jay Gibb, he gave us great insight of what has worked for business when it comes to referral marketing.  Here are a few tips that he recommends to business owners who are starting to implement email referrals or want to improve their processes:
Have a good freakin' product or service!
Give an incentive to share
Engage and motivate from the beginning
Send positive feedback to the referrer
Simplify Email Referral Process
Resources Available
One resource that we have grown to love is CloudSponge. Cloudsponge provides a service helps technology companies level-up their referral marketing programs by accessing their customer's networks through the easy sharing of their address books.  Companies such as Airbnb, GoFundMe, and Yelp are a few of their customers who have purchased the widget to help them reach their goal of either encouraging growth by rewards, fostering relationships, requesting a donation, and so much more.
CloudSponge has a ton of data on businesses who have used their widget and have seen major trends of what works and what flops. Here's a video of how it works:
In short, referral forms take too much time to insert contact emails and customers find it a waste of energy. Since this happens, customers are opting out of inserting contacts and businesses end up with no referrals. Boo. Never good when the goal is to grow from customers. A solution CloudSponge offers is a widget that accesses users address books and shares contacts, so they can be integrated into the referral form. This helps the users by not needing to leave the website to look up contact information in another window and results in an increase of referrals for the business.
CloudSponge explains how Greenvelope, an electronic invitation service, used their widget to help users import contacts from Gmail, Yahoo, and other contact services.  Greenvelope noticed that they were having importing issues where certain contacts couldn't receive their electronic invitations.  When the CEO of Greenvelope started to search for a solution, they found CloudSponge to help with their importing needs.  Instead of investing valuable resources and time to try and develop a solution, the CEO decided not to recreate the wheel and reach out to CloudSponge. Greenvelope's users had a much smoother experience when creating their guest lists and had less of a need to ask for support.  That sounds like a "Win-Win" situation! Greenvelope was able to make the user experience better, reduce the amount of time for support requests, and reach more people to know more about their services.  What's not to love?
That's all folks!
Hopefully you understand how referral marketing can be an integral piece of your marketing stack. With all this information we want you to know that you can do it!  It can seem like a lot at first, but just make small strides in the right direction to help build your relationship with customers.  It'll be worth it. Trust us, and good luck!
Get Notified When We Publish New Content!
Join more than 2,500 people who get our marketing automation, business marketing, and WordPress news!