The Jacket Society, DigiSavvy Small Business Client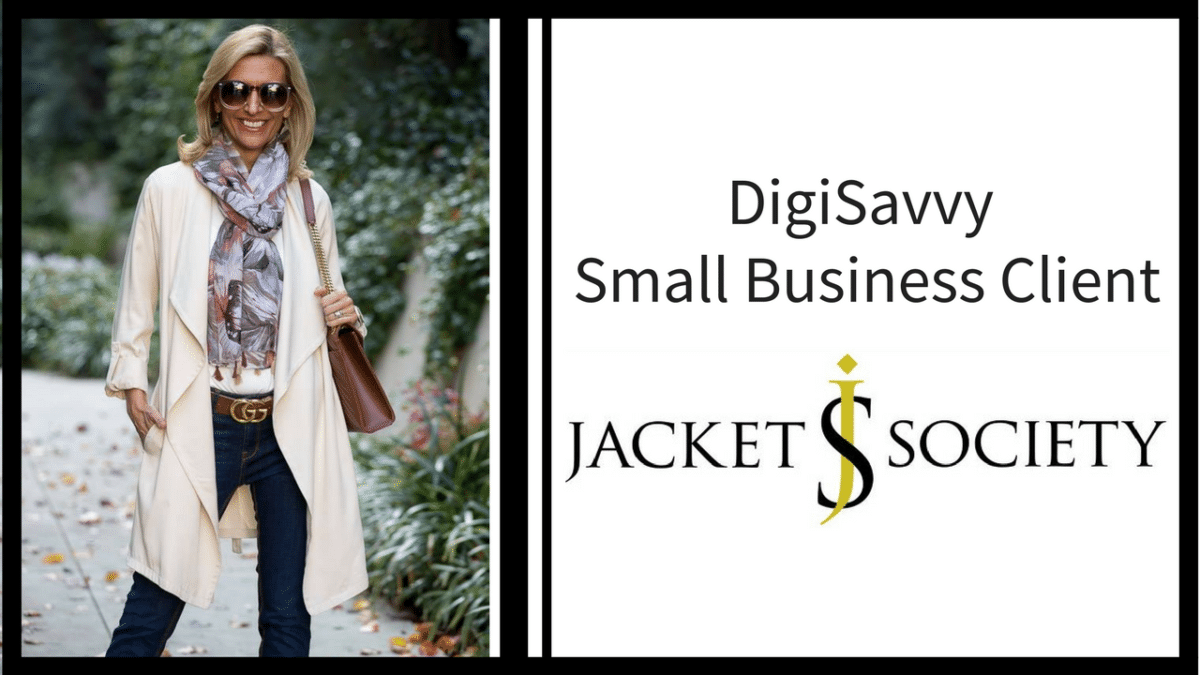 What does content have to do with promoting your business online? A lot! Thousands of words, hundreds of photo shoots, and thousands of photos later, the people behind JacketSociety give us their insights into marketing their business online.
This is the second DigiSavvy Small Business Client feature for National Small Business Week. If you haven't checked out part one, take a look at it here.
What's the deal? We wanted to have this series of small business blogs to shine a light on small businesses and celebrate them for all their hard work and dedication.  If you're a small business, here's a virtual high-five, *BAM!*. If you're thinking of starting a business but a little nervous, we want to let you know that you aren't alone. Read on and learn about Jacket Society's journey in growing their business.
Starting a business is never a piece of cake, but it is worth it.  Our client, The Jacket Society, founded by Nora Minassian in 2014 and marketed by Tim Gilpin, was so kind to take time out of their busy schedules to interview with us and discuss some of their struggles and successes.
The Jacket Society is an online store that designs and sells jackets, but also scarves, blazers, wraps, blouses, jewelry, and so much more.  Nora and Tim tell us in depth what the process was like and what they have learned as small business owners.
How did you start?
Nora began to pursue her passion for fashion and merchandise in her 20's when she attended the Otis College of Arts & Design in Los Angeles to receive her Bachelor Of Arts degree in fashion design and merchandising. Nora started The Jacket Society when she began blogging on jackets/fashion and saw a lot of people taking an interest in her posts. She then decided to turn her passion for jackets into a business and started to design and create her fashion line.  She always loved fashion, especially jackets, and says, "that jackets complete a look and make you feel polished and confident." As for Tim, he had been there with Nora from the very beginning and has taken on their WordPress website, photography of the outfits, and marketing.
What lessons have you learned when selling online?
Selling online can be a very impersonal experience, which works for some customers, but the majority still enjoy some personal interaction.  Nora goes on to say that building a relationship with your customer is extremely important for online businesses. She says that you have to be in touch with their needs and wants, as well as help them to the best of your ability.  Since Nora does a lot of blogging for her business, she says that the blog has helped nurture that relationship with customers and translated into sales that day. She also says that it is essential to know your target market. For her, it is women in the late 30's to 60's, who value that personal touch a little more so she puts in extra effort.
When did you first learn about SEO?
I don't know about you guys, but when I first started to do marketing, I had NO IDEA what they were talking about. I pulled out my iPhone and began to educate myself on the power of search engine optimization aka SEO.
For Nora and Tim, when they began the business online they learned what SEO was, they saw the importance and started to look to hire out someone who could help increase their search frequency.  Unfortunately, the person that they hired five years ago for six months had them ended up on what Google calls, "The Blacklist" because they had links that would show as spam or harmful links. Oh no!
As a small business, when you invest a significant amount of money it hurts even that much more when the service provided isn't what you expected and in result affects your business negatively.  At DigiSavvy, we hear this all the time with people hiring out for websites, and they get something that they didn't want or doesn't work for their needs. It's tough out there, sadly, but we don't want you to get discouraged from those experiences either.  If you have a similar experience, let us know in the comments below.
How has the business changed in the past few years? What trends do you see are happening?
When talking to Tim about the website, he says that a lot of people are doing chat boxes.  He says that he sees the value in them in the sense that they give in the moment responses to the questions the customer may have for the business.  Tim, later on, says although they are useful, for the Jacket Society, he saw that their customers or potential customers who are interested in their products prefer a personal message and response to what they asked about the product.
Going online is essential for small business, but what Nora and Tim say makes them stand out compared to their competition is that their customers feel a relationship built between them and their products.  They say that every small business is different, but you should ask your customers why they like your business, and if they are loyal customers, why they keep coming back.
How did Alex help your business?
Initially, Nora met Alex at a MeetUp when she was getting started with her blog and became friends. About a year ago, he helped them with moving the hosting platform to WordPress because they had been experiencing some issues with their previous website hosting.  Nora and Tim said having Alex as a website developer was beneficial to the business because of the time he took to understand their needs and trying to fix their website the right way so they could move in a positive direction for their online business. Nora says that he was very knowledgeable and trustworthy and felt that he genuinely cares about your business.  It was very heartwarming hearing these kind words from them.
In Conclusion….
At DigiSavvy, we would like to thank the team at The Jacket Society, Nora, and Tim, for sharing their fantastic experience with us and taking the time to be interviewed.
What I took to heart when talking to Nora and Tim was that as small business owners, sometimes it starts because you have to make it start, while others, it starts as something else and evolves into a new idea.  Either way, you started, and that is because you made it happen. I'm always so proud of people making their path and creating something they believe in because I think secretly that's everyone's dream, but you all were the ones who pursued it.
Thanks for reading!  And I hope you go out and support your local businesses this Small Business Week=)
Get Notified When We Publish New Content!
Join more than 2,500 people who get our marketing automation, business marketing, and WordPress news!