Holiday Email Marketing Tips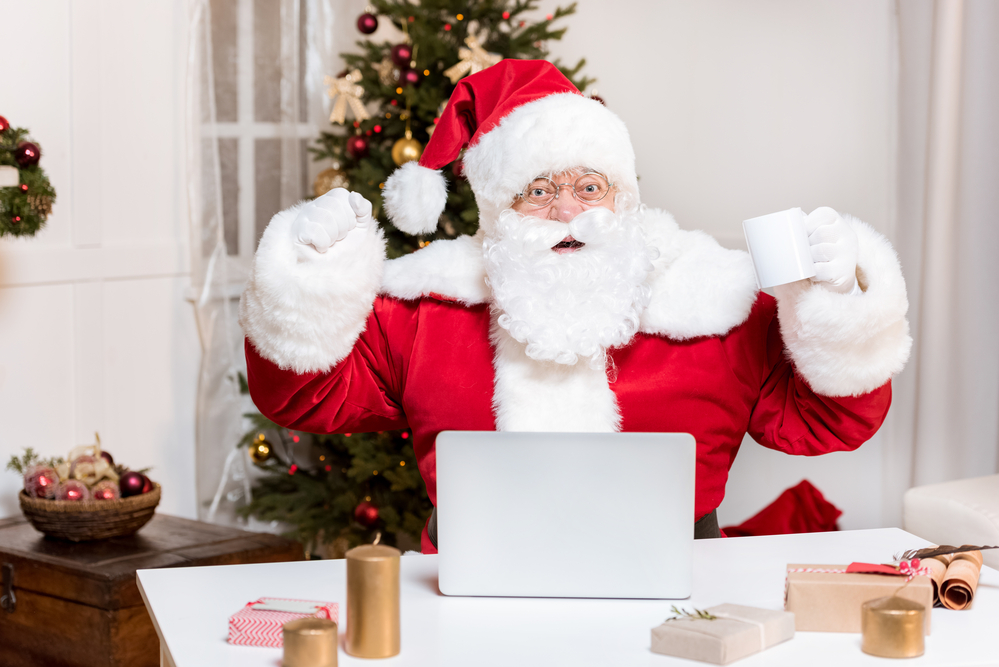 You guys have heard us mention that email marketing WORKS. Like really really works. So, we wanted to give you all some tips on what to include in your emails for the holiday season that will make your customers more interested in what you have to offer.
Let's start off with the one you have definitely seen before:
Inform your subscribers about any holiday sales or coupons
Give your email subscribers exclusive and timely discounts or just simply inform them of a holiday sale that is happening. This will make them more interested in opening your emails!
See the example below on how Kate Spade did this last year: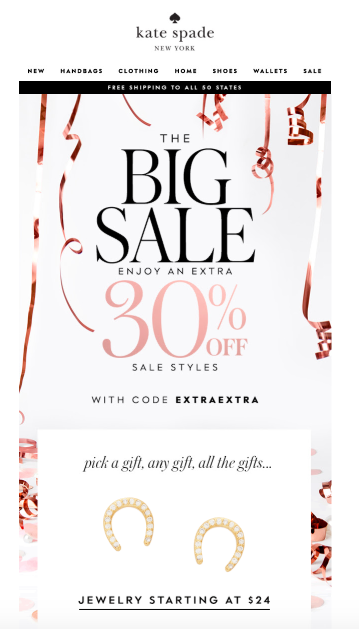 Are there any holiday events that your email subscribers would be interested in?
Consider inviting your subscribers to your own business events. This is a great idea for your customers to get to know you and your company a little better. Oh, one more thing! The one often overlooked holiday are birthdays. If you have your customer's birthday information on hand it's usually a good idea to send a special birthday promotion. Salesforce conducted research and opined that 75% of businesses sending this type of campaign noted a positive impact.
Send an end-of-the-year company update
Keep them updated on what your business has accomplished this year and how they have helped with those goals. Also, include the company's goals for the next year. This is also a great time to invite your customers and clients to provide critical feedback about your products and services
Remind them of any gift certificates your company offers
It's the gifting season! Rewarding customers for their loyalty and support is always a fabulous idea. If you have customers who are super fans of your business then try rewarding that love and trust by offering a referral fee or perhaps a gift certificate for each lead they send your way.
Here is a good example from Tarme Grill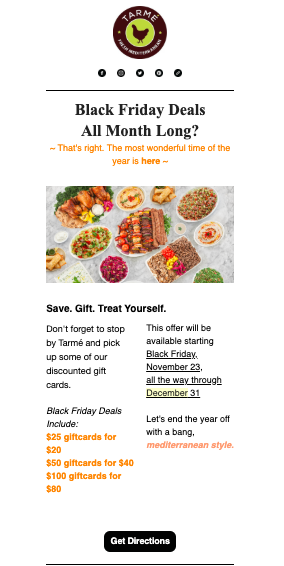 Send out your holiday hours
Make sure to let your customers or clients know what days your company is off. Are you closed on Thanksgiving, Hanukkah, Christmas or New Year? Give them a heads up.
If your business sends products, remind them of any shipping deadlines. 
Just in case they want to buy anything as a gift and want it by a specific date, they should do it before the deadline. This will also encourage them to buy after the email is sent.
ALSO…
You don't have to use just one of these ideas for your e-newsletters. Send out a few emails before the end of the year that includes either a few of these ideas or all of them (just make sure to spread them out).
Get Notified When We Publish New Content!
Join more than 2,500 people who get our marketing automation, business marketing, and WordPress news!