The 6 Best Types of Social Media Videos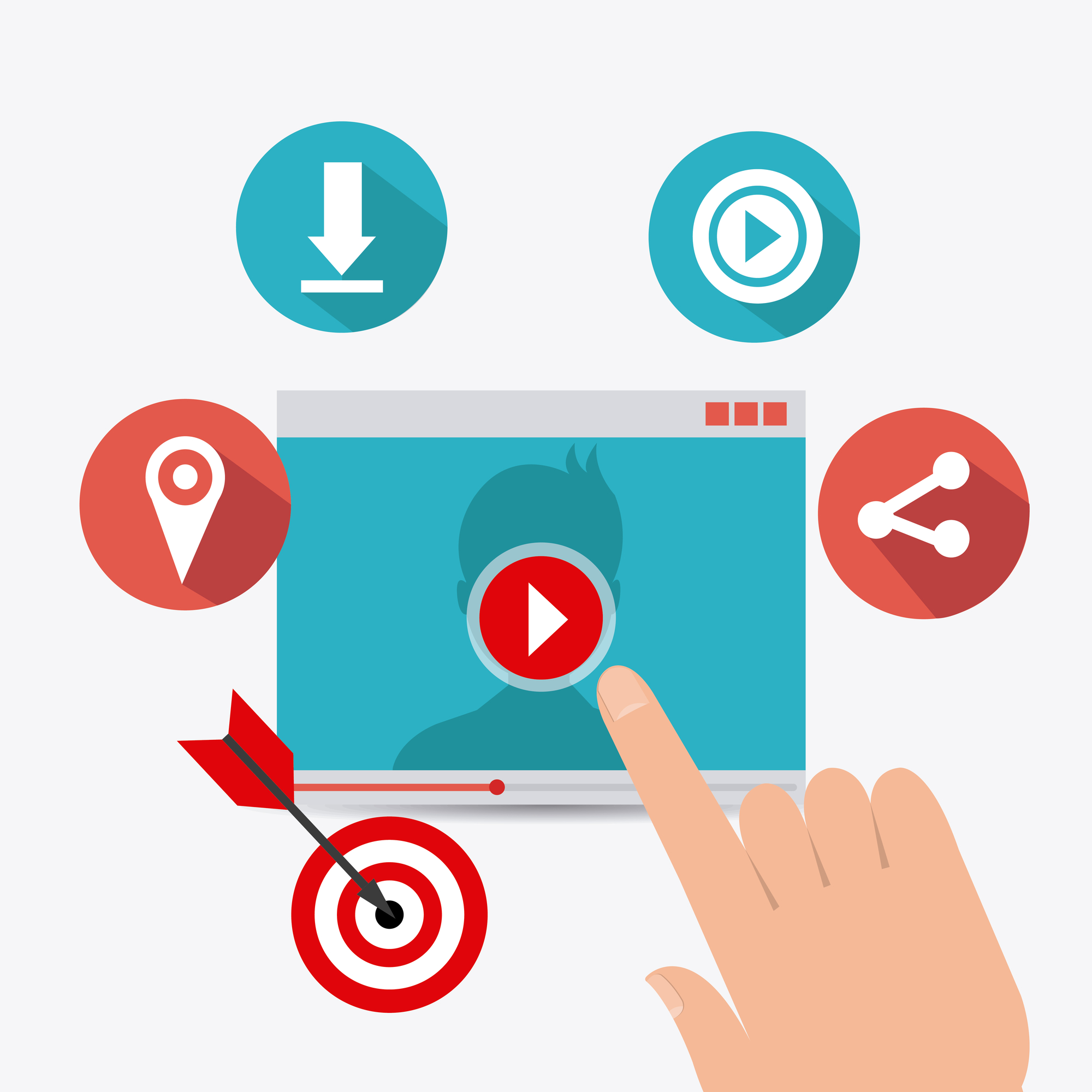 Video has become the new content marketing star for a growing number of small business operators. According to a survey conducted by Ascend2 and Demand Metric, business websites are the most popular place online to upload videos. Social media sites like YouTube and Instagram are the second most popular online location to upload videos.
The question is not whether your business should promote products and services by uploading videos to your social media pages. Instead, the question is what are the best types of social media videos?
Benefits of Using Videos on Social Media
Google a search keyword or phrase and the search engine giant should return a first page of results that includes at least one video. Using videos on social media makes sense foremost because Google has changed its algorithm to place more of an emphasis on rewarding online sites that upload helpful videos. Higher search engine results represent just one of the benefits of using videos on social media.
Increased Brand Awareness
Uploading videos that present useful content enhances the connection you have with not only loyal customers, but also potential customers that are considering buying one of your products or services. The key is to produce helpful video content that keeps your viewers engaged.
Generate More Leads
When a video uploads for a target audience, it should generate more leads than the leads generated by uploading content framed in articles and blog posts. Verbal calls for action have more persuasive power than digitally written words.
A Boost for SEO
We have already stressed the importance that Google places on videos for search engine optimization. Jerry Rackley, who is the Chief Analyst at Demand Metric says, "Marketers should keep in mind that search engines will index properly tagged videos very well, and they often include an attention-grabbing thumbnail pane in the search results page."
Access to Success Metrics
Videos are perhaps the most effective online marketing tool for accessing analytics. Data pulled from tools such as Google Analytics and SEMrush help online marketers make the right decisions when it comes to uploading video content.
How to Gain More Exposure for Your Business Through Videos
A discovered that videos on Instagram receive nearly 50 percent more interactions than the interactions received by images. Videos marketing on social media is an effective strategy to get the word out about your business. The question now is what types of videos should you post to attract more customers?

How-to Webinars
Webinars are not just for college professors to instruct students online. Businesses can leverage the power of social media videos by creating informative webinars that teach viewers how to do something. The Sprout Social 2018 Index found around 60 percent of consumers search for videos on social posts that teach them how to complete a project or fix a common problem. For example, an owner of a cycling store can teach viewers how to repair a punctured tire. Instructional videos build the level of trust consumers need to take action.
Videos on social media pages should differ in length, but not content style. You still want to educate viewers, but you want to do it by uploading shorter videos than the videos uploaded to your business website.
Here is an example of an effective how-to video uploaded by Tasty to Twitter

Product Demonstrations
As a type of how-to video, a product demonstration video explains how to use one of the products offered by your business. The goal is not to promote the product, but to teach viewers how to get the most out of it. By highlighting the key features, a product demo video subtly sells a product, without going over the top by using hard sales tactics.
Justin Chappele, who is the Culinary Director of Food and Wine at Le Creuset, provides us with an outstanding example of .

Get Your Customers Involved
You hear a lot of advice concerning the importance of engaging your customers. There is not a more effective way to get your customers more engaged than asking them to upload videos that they have created. Instead of spending time and money producing your videos, get your customers involved by encouraging them to share their stories.
Although the primary goal of uploading user-generated videos is to present fresh, helpful content, you also display gratitude for customer loyalty.

Special Event Announcements
Compare the emotional impact of announcing a special event on your business blog or by announcing the special event via a video on a social media site such as Facebook or Instagram.  The social media upload carries much more emotional appeal. A special event can include the announcement of a new product or a short description that describes an upcoming sales event that is for customers that have subscribed to your email newsletter.
Everlane provides us with the optimal way to use videos to on Facebook.

Question and Answer Sessions
Done as part of a podcast series or a standalone video, a question and answer video represents an effective way to grab the interest of your viewers. You can ask for questions through your website and/or by interacting with your customers on the social media site where you plan to upload the question and answer video. You should also consider interviewing experts in your business niche that offer helpful tips on how to solve a common problem.
Oracle shows us how to exchange ideas on Facebook by .

Behind the Scenes
Offer your viewers an insider look into your business by uploading behind the scenes videos. You can provide a live feed that runs for a specified number of minutes, as well as involve your team members by allowing them to discuss what happens at your business daily. Give your viewers an online tour of your physical storefront and provide a real-time view of a special sales event.
Google has started to place more emphasis on ranking social media pages (especially Facebook) higher in its search engine. Take advantage of the new emphasis by uploading one or more of the six best types of social media videos to one or more of your social media pages.
Get Notified When We Publish New Content!
Join more than 2,500 people who get our marketing automation, business marketing, and WordPress news!