How we work; how we set up our workflows and go about our day-to-day business is a very personal thing. There is no shortage of methods to organize best and manage the details of a project. This topic has been an area I've spent way too much time on over the last few years and is something I revisited once more when I decided I wanted to begin self-hosting some of my tools.
The Players
Asana
You know Asana is a simple project management tool. Some say it's "too simple" but I am not one of them!
Some time ago I made a decision to move over to Asana. It's a move I've been very happy with. In fact, I'm still a happy Asana user. It's easy enough for me to use and to onboard people—contractors and clients alike. Ease and simplicity are the reasons I cite for really liking the platform. They recently completed a UI refresh earlier this year that has been well-received, and I LOVE it.
It's been a great tool that has continued to mature well over time. The team is great about listening to customer feedback, evidenced by reverting a big change earlier in the year which pre-dated their UI overhaul. They listened to the furor of their users and changed things back. No one gets it right 100% of the time and listening to your users is key if you want to keep them happy as you continue billing them.
That maturity has led to a lot of great features such as a progress dashboard, task dependencies, and repeatable tasks. There's a lot more, too.
Asana is a fair investment as it's free for up to 15 users. If you want more fine-grained team controls—which I needed—then you can pay $25 for up to five users. Again, that's reasonable and fair.
While I do love Asana, this post isn't about that tool. Most of this post centers around, as you'll see, around ActiveCollab and why I decided to move that direction.
Because of it's sheer simplicity, I do love Asana as a pm tool. It's easy for everyone to get onboard and get work done.
ActiveCollab
Then there's ActiveCollab is a player that's been around for a long time. I've had to use it on a couple of projects with clients in the past as it was their way of managing things. I didn't like it. It looked old and felt clunky. It did so much stuff, in my opinion. By comparison, it's a beast compared to an Asana or Trello.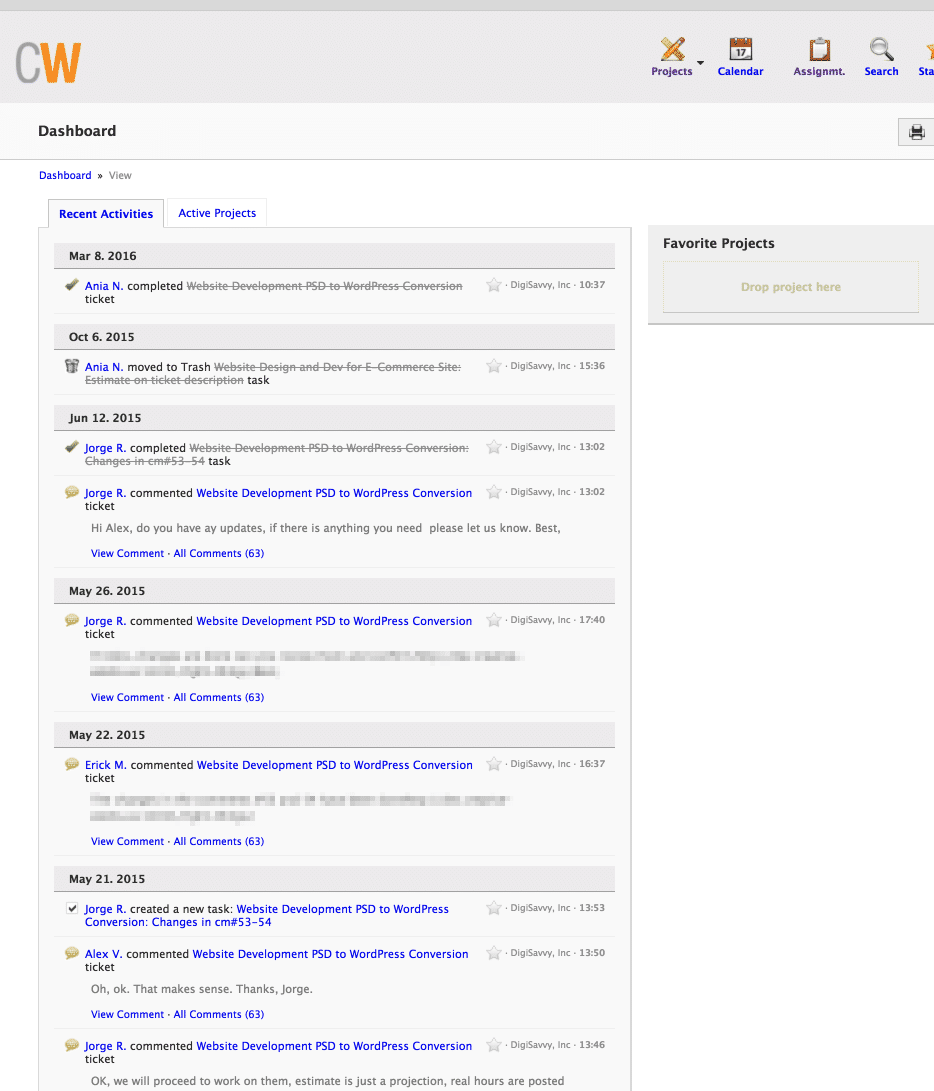 I started seeing articles from ActiveCollab and saw that they had rebuilt their product. They refactored the code and mostly pushed the reset button and delivered version 5 of their product.
I looked around, read up on the featured and demoed the UI. It looked clean and simple; it was fast and responsive. I very much liked what I was seeing; I also liked that they offered a self-hosted feature. This commitment to start anew made me bookmark the product when it came around to looking at PM tools again.
Straightforward and powerful, I thought to myself.
Why The Switch?
So what's the driver behind the switch? Partly money, mostly data-ownership. SaaS is a beautiful thing, no doubt about it. I use a TON of them, and I pay for them, happily, too. But I would like to pay a little bit less and manage my data.
It started with my invoicing system. I moved from CashBoard to Sprout Invoices Pro (SI) and hadn't looked back. SI is a solid invoicing platform, works well, and is well supported, and the dev cranks out features like some people crank out Jurassic farts after a pizza party. The move got me thinking what else could I self-host? Immediately project management came to mind, as did self-hosted version control via GitLab. One thing at a time. I decided to trial ActiveCollab.
I decided to trial ActiveCollab.
So yeah, I tried ActiveCollab
As noted above the clean and refreshed UI is a breath of fresh air. Everything is quick and snappy. Searching for things is easy, too, via Elastic Search.
For me, project management is simple yet hard. For starters, you—rather me—have to commit to a process. For your process to be a success you have to stay committed to each step in your process and use the tools at your disposal that help you manage things day-to-day. Simply put, if you don't like a critical component of your toolset you're sure to fail in sticking to your promises.
It's also difficult to keep stakeholders using your tools as well. If you work with contractors, your tools are yet one more thing they have to get up to speed to use. For your clients, the tools should not interrupt their day or annoy them.
In this regard, I believe AC addresses these points. It's easy enough to get up and to go for me, easy enough for contractors to start using the system, and flexible enough for clients to just reply via email to tasks and discussions.
Managing Your Projects and Tasks
While ActiveCollab is well designed, it is also fairly straight forward and easy to use. You can get to everything you need within a click or two. One feature that I particularly like is choosing what view to go with for your project. You can view as a Gantt Chart, Kanban Board, or standard list; it just depends on how you like to work.
Another feature that I appreciate that carries over from Asana, is the discussion project feature. Which is great for non-task related discussions such as status updates or discussions about features or anything else.
Invoicing and Getting Paid
While I've already got invoicing and estimating taken care, ActiveCollab does provide the simple estimate and invoicing management features, too. When you combine that with a time tracker then AC is a simple-to-use and accessible ecosystem for managing and billing your projects.
You can create estimates, which, when won, can be converted to invoices and also as projects. This feature makes for an excellent, quick-to-use workflow. That said, while the simplicity of the invoicing and estimates are nice—ultimately there is not enough utility or functionality here for me to use it. Particularly I need recurring billing, not just recurring invoices.
Managing Clients and Teams
One of the areas where Asana shines is that its team management capabilities are fine-grained (for paid accounts) and easy to manage. That was something I was worried I'd miss. Initially client roles were very limited in AC when I purchased it. Those fears were summarily quashed when they released their "Clients+" addon.
Inviting users, setting them up in organizations is easy, and it makes it easy to assign them to tasks and projects as well; which ultimately makes it easier to keep folks on the same page.
Self-hosting ActiveCollab
I'm not going to lie to you here; the setup isn't too hard, but it is involved, and there are particular requirements you want to adhere to such as being able to support a very specific version of Elastic Search to use it with AC. I tried spinning up a Digital Ocean instance and didn't get too far (Ahem, cough, cough, create an instance for Digital Ocean, ActiveCollab!). After doing some research, I landed on CloudWays and bought an instance there. I've had zero problems. In fact, setting up ActiveCollab on CloudWays was a snap. But do note, there is a bit of a curve in getting your setup. Fortunately, the documentation is really strong, and support is quite helpful.
Future Goodness?
Updates have been regular, and improvements have come quickly, which makes me excited about the platform. In particular, I'm looking forward to a Zapier integration as well as Github (or Bitbucket and Gitlab pretty please). Their roadmap has a lot of exciting stuff in the pipeline that I'm chomping at the bit for.
Overall Impressions
I liked ActiveCollab enough to purchase a self-hosted license, and I'm glad that I did. I've been slowly working AC into my workflow. New projects go onto ActiveCollab; old ones stay on Asana.
AC says their product is powerful, yet simple. I agree with that, they nailed it. ActiveCollab is wonderfully simple and powerful. It doesn't do too much and is easy to get into once you're up and going, things are easy to find and to get to. It doesn't suffer from feature bloat, like its previous versions. If you're new to the platform, that's good news. If you're a lover of their old platform, there's a lot you'll be missing.
Overall AC is slick and easy to use. It's still a bit clunky in a few areas, which I note below.
Things I'd like to see:
Being able to view completed/incomplete tasks together on the same screen, this works well with the column/kanban view.
Improved handling of bulk item management. It would be great to select multiple tasks and drag them around as needed, rather than clicking bulk edit and then selecting what you want to be done with the chosen items. Asana excels there.
The Zapier integration…. PLEEEEEEEASE!
*Bonus*
There's not a tool to import Asana projects into Active Collab. Or is there? I did successfully port over my projects using a nifty new tool called ToDoPort. It's worth checking out. I exported my Asana projects to Trello and then ported those over to ActiveCollab using their built-in importer. It worked like a charm! I'll write something up quickly on that.
All in all, if you're looking for a new, fully integrated project management and billing solution give Active Collab a look.
Get Notified When We Publish New Content!
Join more than 2,500 people who get our marketing automation, business marketing, and WordPress news!