About
DigiSavvy was born in 2010 and it was the brainchild of Chris Tolar and Alex Vasquez while playing a game of Magic: the Gathering. Since then, DigiSavvy has evolved from building "neat" websites to building goal-driven business solutions for a variety of businesses and organizations.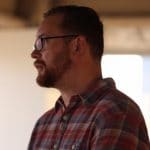 Alex Vasquez, Principal and Co-Founder
When the incomparable Ron Swanson told Leslie Knope "don't half-ass two things, whole-ass one thing" it changed my life forever. Since then I've been helping my clients take ass and kick names! Or something very close to it!
Training & Education Partner
Lucy is our go-to, trusted, resource to provide training and education services to all of our clients. Education is a key of empowerment and that's why training is a part of every DigiSavvy project
Visit Lucy
Branding & Design Partner
Amber gets branding and visual communication in ways few others in the business do. Amber listens to what our clients want and then does this magical thing with her fingers and laptop to produce mind-blowing designs and messaging and makes it all look easy.
Visit Amber
Kassandra Aguilera
Marketing Coordinator

Kassandra is our newest team member and handles a lot of the heavy lifting with our marketing efforts from creating content, conducting research, and making sure the t's and i's are crossed and dotted respectively.
Visit Lucy
Web Developer
Gavin slings code in his sleep; he live streams his games of Magic: the Gathering. In other words for RRRGG he will code slap the sh-- out of a problem and cause trample damage. We know, totes epic!