About
DigiSavvy is a boutique digital studio. We help businesses by focusing on 3 key elements of a successful business platform — strategy, content, and technology.
---
DigiSavvy was born in 2010. It was the brainchild of Chris Tolar and Alex Vasquez over a game of Magic: the Gathering. Since then, DigiSavvy has evolved from building "neat" websites to building goal-driven business solutions for a variety of small businesses and enterprise-level organizations.
We create business solutions that are tied to business goals. We achieve those goals using technology, hand-crafted code, and smart marketing strategies and tools that cater to our client's needs. No two solutions are  the same. We strive for a positive business outcome every time.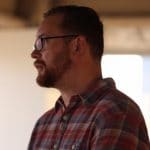 Alex Vasquez, Principal and Co-Founder
I've always had an entrepreneurial bug and began building websites in 1999—at first part-time.  It wasn't until the incomparable Ron Swanson told Leslie Knope "don't half-ass two things, whole-ass one thing" that I decided to make DigiSavvy my sole focus.
Front-end Developer
Gavin likes Magic: the Gathering and technology. He likes when people watch him run players off of M:tG Online. He doesn't like Alex's jokes.
Training & Education Partner
Lucy is our go-to, trusted, resource to provide training and education services to all of our clients. Education is a key of empowerment and that's why training is a part of every DigiSavvy project
Visit Lucy
WordPress Developer
Nicolás is an Argentinian-based web developer. He has worked as a systems analyst and full-stack web developer. He brings a considerable set of skills to DigiSavvy and he likes the band Machine Head!