Savvy Musings Digital Digest, August 2022
Alex Vasquez
|
Issue #9
|
Saturday, 20 Aug 2022
|
Reading time:
10 mins
---
If you're savvy and like my musings, I have good news: You're in the right place. Tip of the cap to Mr. Johnny Mac.
I hope you all had a good week and are prepared to tackle your weekend. For me, I had an excellent week, thank you very much!
It's amazing how a new set of sheets, comforter, and pillows make sleepy time more enjoyable. Thanks, Quince (and the gal from Hinge who told me about them)!
So, let's get into this digest thing, party people!
What I Bookmarked This Week
As a Subie owner…
I never let a random conversation with a stranger go by without me telling them I own a Subaru and then make it my whole personality.
I don't know why I think owning a Subaru is comparable to having x-ray vision, thermal nuclear underwear, or owning a petulant baboon named Kevin, who is definitely stealing your socks and trading them for who knows what, in your small suburban town of Sierra Madre; but I digress… I am a "cool dude" dammit to heck!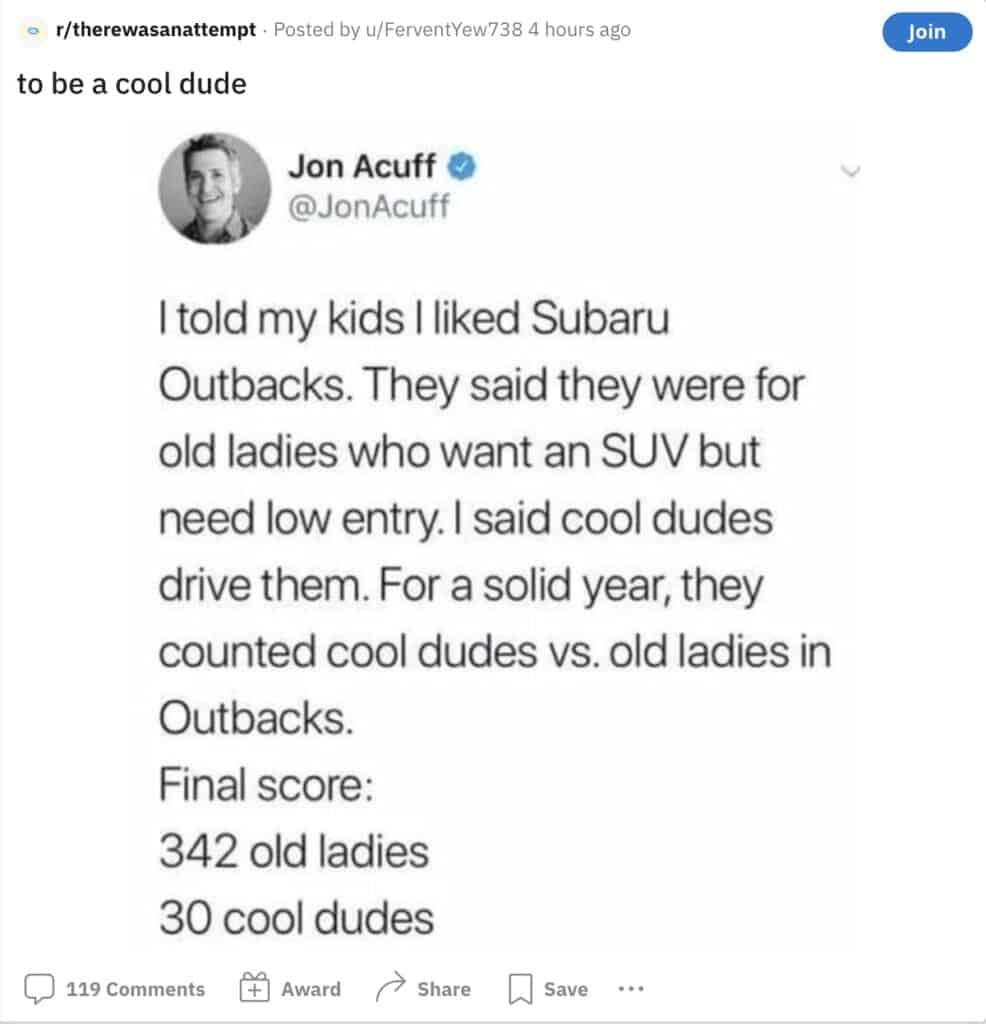 Is your content up to scratch?
A good set of questions to ask of your content as you plan it, as you write it, before you publish it. Take a read and like this tweet!
Thank you for the reminder…
Accessibility tip o' the week
Icons combined with colors and text help communicate a message to a much wider audience.
WordPress
Matt Mullenweg. Wunderkind, peppy smartboy, wearer of expensive clothing, and co-creator of the WordPress project, and guy at party who speaks in shit posts…
Or, if you prefer, we can let Kumail Nanjiani introduce Mr. Mullenweg.
A WordPress Without Matt?
What would WordPress be without the contributions from the community? What if the community reclaimed their "Five for the Future?" 🤔
I have a much longer take on this and maybe I'll write that up but for now, just take my digestable rant for what it is: My rant.
Brian Coords nails it in his opinion piece on MasterWP: WordPress Leadership has a Public Relations problem. It really does!
I'll say it: Matt Mullenweg needs to GTFO and step aside as lead of the WordPress project. The only people who have more beef from the general population than Matt are the guys filming horrorifically ill-conceived, inedible, TikTok recipes, that their partners are making, while also fumbling dorky jokes and puns.
He has a poor temperament, which is prone to him acting out and creating drama. He's largely unhelpful and often does things that are not in the interest of the community that helps support WordPress (which padding Matt's checking account).
Just by holding onto his leadership role, Mullenweg is directly (and indirectly) responsible for the exit of many talented developers, marketers, accessibility experts, organizers who have given so much to this community.
What would the WordPress ecosystem look like with no Matt Mullenweg to stir the pot? 🤔
Is Rachel Cherry the "Cassandra" of WordPress? She was advocating for a governance model for WordPress. She knew the project needed a strong, transparent, governance model—she wasn't alone. The initiative was supported by many and shunned by few, except for a small group and one person who is unlucky in cards.
Maybe it's time to revisit that discussion…
WordPress vs Hubspot?
Rand Fishkin, smart-egg, and former CEO and Founder of Moz, posited the question about staying on WordPress or switching to Hubspot. This twitter thread has lots of good thoughts on it for and against WordPress.
I tend to believe it's better to maintain complete control of your digital footprint, which you lose when on a SaaS platform. Most customers don't really care, they just want the thing to work well and perform.
WordPress.org ships new homepage and download page design
WordPress ships their new homepage design for dot org, after a week of drama created by Matt Mullenweg.
The new site utilizes a block-theme, using blocks. How refreshing! Welcome to 2022 WordPress.org!
I like the design, it looks fresh, and that it uses blocks won't matter to the average user but for others deeply involved with the project or build solutions with WordPress, it's certainly a sign of confidence from the WP Project in the innovation they created.
#WorldPhotographyDay Challenge!
Are you like me and just snap pics of stuff for no good reason other than the fact that you feel every photo you take is 🔥? Well, they made a day JUST FOR YOU!
Actionables
Positioning Statements and ewww
I wrote that it's good to be clear on what you do, who you do it for, and why they want it. I've gained more clarity on this within my own business of late.
As Jonathan Stark writes, a good positioning statement is
I am a DISCIPLINE who helps TARGET MARKET with EXPENSIVE PROBLEM. Unlike my competitors, UNIQUE DIFFERENCE.
I am a User Experience Consultant who helps Fintech Startups build more profitable mortgage platforms. Unlike my competition, I worked on Wall Street and understand the business of design and how it contributes to increasing profits.
I find that a positioning statement works best for solopreneurs, aka soloists. You can adapt this approach for your website's various feature, product, and service pages.
Be more direct than a lightning strike…
Is it clear on your website what you do and who you help? Are you being too clever? Too vague?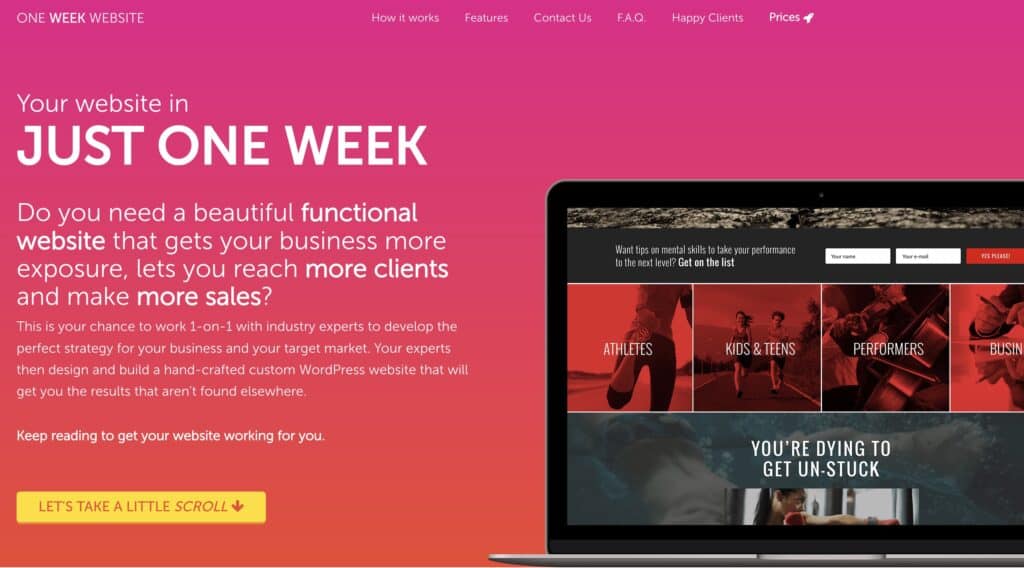 The promise and what you get. Right there, no questions. The promise of value and an annoying yellow-ass button make it clear what to do next. Click the mofo.
Building the Storybrand Approach
The StoryBrand Framework is a popular messaging approach designed to clarify your message and elevate your marketing efforts. The framework prioritizes your ideal customer's expensive problem and positions your product as a valuable solution.
Here's how it works
A Character (your customer)
Has a Problem (they need to solve)
And Meets a Guide (your business)
Who Gives Them a Plan (your solutions)
And Calls Them to Action (to start the buying process)
That Ends in Success
And Helps Them Avoid Failure (what would happen if they don't buy)
Here's an example taken directly from the StoryBrand website:
Even if you have the best product in the marketplace, you will lose to a competitor's inferior product if they communicate more clearly.
See what they did there? They clearly state the problem and what happens if you do nothing about it.
Does your website demonstrate that you understand your customer's very expensive problem? Does your website communicate the value of your solution (or what happens if they take no action)? Is this paragraph grammatically correct?? Nah. Sorry, Taylor.
Audiobooks and Roadtrips
Driving fourteen hours provides a lot of time to listen to a podcast, your favorite music playlist, or sit in silence. All of which are valid uses of time on a long drive.
Enter Audiobooks. I prefer to read from my Kindle or a traditional book. I just like having something in my hand to focus on—I can focus on the words, the meaning of a sentence, appreciate the prose on the page, and the flow of the words as my mind works to discern meaning or imagine things based on what the author wrote.
But, man, Audiobooks! I went through two on my drive between Los Angeles and Salem. The two books were Book Yourself Solid, by Michael Port, and Your World-class Assistant, by Michael Hyatt.
My brain sopped up the information like a sponge.
The actionable tip is that Audiobooks and road trips go hand in hand. If you didn't know this, you're welcome. If you know this, then please welcome me to the future!
Did you love this edition? Hate it? Reply and let me know!
Need Help Growing Your Biz?
We Gotchu.